We are excited to host Roxanna Asgarian in the store on March 14th at 6:00PM to discuss her new book, We Were Once a Family. In conversation with Sewell Chan, Edit in Chief of the Texas Tribune.
Description
---
The shocking, deeply reported story of a murder-suicide that claimed the lives of six children—and a searing indictment of the American foster care system.

On March 26, 2018, rescue workers discovered a crumpled SUV and the bodies of two women and several children at the bottom of a cliff beside the Pacific Coast Highway. Investigators soon concluded that the crash was a murder-suicide, but there was more to the story: Jennifer and Sarah Hart, it turned out, were a white married couple who had adopted the six Black children from two different Texas families in 2006 and 2008. Behind the family's loving facade, however, was a pattern of abuse and neglect that went ignored as the couple withdrew the children from school and moved across the country. It soon became apparent that the State of Texas knew very little about the two individuals to whom it had given custody of six children—with fateful consequences.

In the manner of Adrian Nicole LeBlanc's Random Family and other classic works of investigative journalism, Roxanna Asgarian's We Were Once a Family is a revelation of vulnerable lives; it is also a shattering exposé of the foster care and adoption systems that produced this tragedy. As a journalist in Houston, Asgarian became the first reporter to put the children's birth families at the center of the story. We follow the author as she runs up against the intransigence of a state agency that removes tens of thousands of kids from homes each year in the name of child welfare, while often failing to consider alternatives. Her reporting uncovers persistent racial biases and corruption as children of color are separated from birth parents without proper cause. The result is a riveting narrative and a deeply reported indictment of a system that continues to fail America's most vulnerable children while upending the lives of their families.
About the Author
---
Roxanna Asgarian is a Texas-based journalist who writes about courts and the law for The Texas Tribune. Her work has appeared in The Washington Post, New York, and Texas Monthly, among other publications. She received the 2022 J. Anthony Lukas Work-in-Progress Award for We Were Once a Family.
Sewell Chan joined The Texas Tribune as editor in chief in October 2021. Previously he was a deputy managing editor and then the editorial page editor at the Los Angeles Times, where he oversaw coverage that was awarded a Pulitzer Prize for editorial writing in 2021. Chan worked at the New York Times from 2004 to 2018, as a metro reporter, Washington correspondent, deputy Op-Ed editor and international news editor. He began his career as a local reporter at the Washington Post in 2000. A child of immigrants, Chan was the first in his family to graduate from college. He has a degree in social studies from Harvard and a master's in political science from Oxford, where he studied on a British Marshall scholarship. He serves on the boards of Columbia Journalism Review, Freedom House, Harvard Magazine and News Leaders Association. He is a member of PEN America, the Council on Foreign Relations and numerous journalism organizations. He was elected to the board of the Pulitzer Prizes in 2022.
Tuesday, March 14th, 6:00PM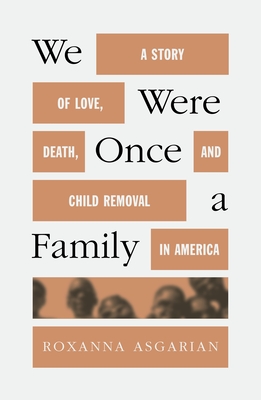 We Were Once a Family: A Story of Love, Death, and Child Removal in America
By Roxanna Asgarian


$28.00

ISBN: 9780374602291
Availability: On Our Shelves Now
Published: Farrar, Straus and Giroux - March 14th, 2023
---
Homepage Blurb:
Author Roxanna Asgarian talks about her new novel, WE WERE ONCE A FAMILY. In discussion with Editor in Chief of the Texas Tribune, Sewell Chan.