We are so excited that Rachel Teichman will be reading her book, B IS FOR BAGEL at story time on Saturday, June 25th at 10:30am! Bring the whole family to enjoy this special reading. See you there!
---
"A...delightful, colorful, bagel-themed ABC book that's an ode to the round doughy delicacy beloved by American Jews (and anyone who has good taste in food)." —Kveller
Splish, splash, and roll your way through this book, where unicorns and rainbows take their bagel form, and sprinkles know no limits! Kids will love finding a new favorite bagel, whether they like lox or maybe just x-tra schmear!
From asiago to za'atar, and everything in between, B is for Bagel teaches the whole alphabet, while introducing children to traditional and innovative bagel flavors. Vibrant photographs of each life-size bagel make turning the pages so much fun!
Rachel Teichman grew up in Northern California before moving to Southern California to study Visual Arts and Business. She worked as an art studio manager and in product development, before honing her skills as a writer while doing PR for small businesses. Her latest move brought her to Houston, where she has enjoyed living for seven years. Rachel is actively involved in her local community. Rachel writes for the local Buzz Magazines, as well as Kveller and TC Jew Folk. She lives with her husband and their three kids, all born in different cities, and her two Texan cats.

Rebecca Wright is a multimedia professional currently living in Houston, Texas. As a foodie with a degree in journalism, Becca spent three years working for a Houston-based food and wine magazine where she was able to dig her fork deep into the city's culinary melting pot. She learned (and ate) so much at the magazine, and it's also how she fell into her professional niche: food photography. She has been shooting freelance for Houston restaurants & bars for the past six years. She also has a small roster of graphic design & digital marketing clients.
Saturday, June 25th, 10:30AM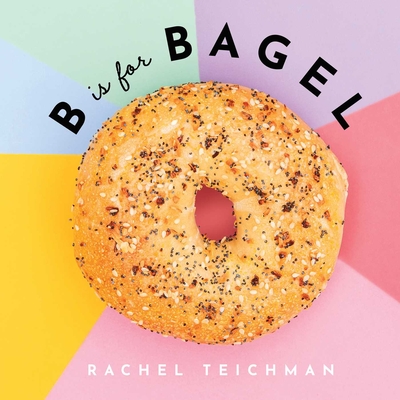 B is for Bagel
By Rachel Teichman, Rebecca Wright


$14.95

ISBN: 9781951412470
Availability: NOT IN STOCK - Usually arrives in 7 - 14 business days
Published: The Collective Book Studio - February 9th, 2022
---
Homepage Blurb:
Special Story Time Reading on Saturday, 6/25 at 10:30am with author Rachel Teichman and her book B IS FOR BAGEL!