We are excited to host David Moscow in the store on March 12th at 1:00PM to discuss his new book, From Scratch.
---
DESCRIPTION
---
In an effort to help us reconnect with the food that sustains our lives, David Moscow has spent four years going around the world, meeting with rock-star chefs, and sourcing ingredients within local food ecosystems—experiences taking place in over twenty countries that include milking a water buffalo to make mozzarella for pizza in Italy; harvesting oysters in Long Island Sound and honey from wild bees in Kenya; and making patis in the Philippines, beer in Malta, and sea salt in Iceland.

Moscow takes us on deep dives (sometimes literally) with fisherfolk, farmers, scientists, community activists, historians, hunters, and more, bringing back stories of the communities, workers, and environments involved—some thriving, some in jeopardy, all interconnected with food.

The result is this travel journal that marvels in the world around us while simultaneously examining the environmental issues, cultural concerns, and overlooked histories intertwined with the food we eat to survive and thrive. Through the people who harvest, hunt, fish, and forage each day, we come to understand today's reality and tomorrow's risks and possibilities.
About the Author
---
David Moscow is the creator, executive producer, and host of From Scratch. David made his feature film debut at age thirteen in Big, starring as the young Tom Hanks; soon after, he starred with Christian Bale in Newsies. He has appeared in dozens of films, television shows, and theater productions over a thirty-five year career.

Most recently, David founded the production company UnLTD Pictures. He has executive produced more than twenty feature films, including Under the Silver Lake, To Dust, Strawberry Mansion, and Wild Nights with Emily. He also directed the thriller Desolation.

David currently lives in LA with his wife and son—and develops mixed-income sustainably green apartment buildings in NYC.

Jon Moscow is David's father, creative partner, and a writer on From Scratch. He is co-executive director of Ethics in Education Network and co-host of the Ethical Schools podcast (ethicalschools.org). He actively works to support asylum seekers with housing and links to social services. He has a BA in International Studies from Reed College and a master's degree from Bank Street College of Education. He and David's mother, Pat, live in Teaneck, NJ, with a Shih-Tzu named Niki.
Sunday, March 12th, 1:00PM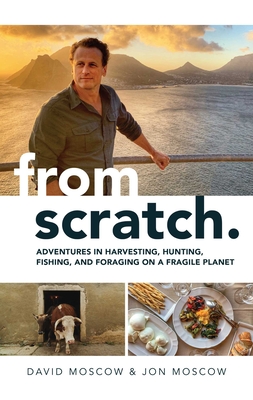 From Scratch: Adventures in Harvesting, Hunting, Fishing, and Foraging on a Fragile Planet
By David Moscow, Jon Moscow


$27.00

ISBN: 9781637584026
Availability: On Our Shelves Now
Published: Permuted Press - October 25th, 2022
---
Homepage Blurb:
David Moscow, the creator and star of the series From Scratch, joins us to talk about his latest book and travel journal!