We are excited to host Elizabeth Eulberg in the store on March 7th at 4:00PM to discuss Curses are the Worst, from her new middle grade series Scared Silly!
Description
---
Goosebumps meets The Baily School Kids in this young middle-grade series about four unlikely friends who must band together to save their town from an evil curse!
WARNING: This book contains a very scary and silly story about a long-dormant witch's curse that's been unleashed on the unsuspecting town of Cauldron's Cove. It's revenge, over three hundred years in the making. (Hey, better late than never!)
When Regan, Sofia, Bennett, and Darius unfairly get put into detention, they know something is wrong. And they're right: This detention is far from ordinary. Their science teacher, Ms. Stein, believes that by using these kids' DNA she can create an army of "perfect" students who have Sofia's smarts, Regan's heart, Bennett's likeability, and Darius's loyalty. Soon the clones are wreaking havoc around town and getting the real kids in trouble!
Will the kids be able to save the town or will they be cursed for eternity? There's only one way to find out and fair warning, dear reader, you should definitely read this with the lights on.
About the Author
---
Elizabeth Eulberg was born and raised in Wisconsin before heading off to college in Syracuse and making a career in the New York City book biz. She is the author of The Lonely Hearts Club, Prom and Prejudice, Take a Bow, Revenge of the Girl with the Great Personality, Better Off Friends, and We Can Work It Out.
Tuesday, March 7th, 4:00PM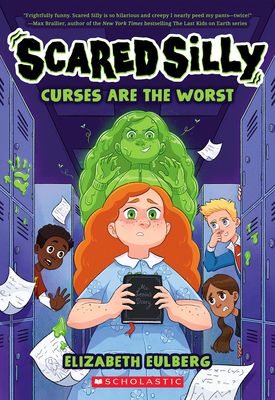 Curses are the Worst (Scared Silly #1)
By Elizabeth Eulberg


$7.99

ISBN: 9781338815351
Availability: On Our Shelves Now
Published: Scholastic Press - March 7th, 2023
---
Homepage Blurb:
KIDS EVENT: Elizabeth Eulberg discusses CURSES ARE THE WORST, the first book in her new SCARED SILLY series for Middle Grade!