In 1966, when the still-young Dallas Cowboys franchise ended six years of agony with their first winning season, the team's owner and founder, Clint Murchison Jr., son of a billionaire oilman, was feeling ambitious. He believed his team would be good, even special, for years to come. With such dreams dancing in his head, Murchison found that the aging Cotton Bowl in Dallas's Fair Park was no longer a suitable home for what would soon be dubbed "America's Team."
Hole in the Roof: The Dallas Cowboys, Clint Murchison Jr., and the Stadium That Changed American Sports Forever tells the story of Texas Stadium, with its trademark hole in the roof, which served the Cowboys for 38 seasons without ever requiring a penny of public dollars. In 1966, though the Cotton Bowl was one of the newer stadiums in the National Football League, Murchison saw it as an outdated venue. What he envisioned was a shiny new stadium near downtown Dallas, but to realize his vision for what a professional sports venue could be—and the many benefits that the resulting revenue could generate—he needed buy-in from Dallas city leaders.
Hole in the Roof chronicles Murchison's founding of an extraordinary sports franchise and the battles he fought to build the stadium he wanted. Along the way, this book provides not only a sweeping biography of Clint Jr., a history of the Cowboys from before their inception in 1960 until now (including Jerry Jones), and a history of Texas Stadium, but also a critical look at how Clint's original concept of the stadium has been corrupted—by greed and avarice.

Opening with a foreword by Drew Pearson, all-time Cowboy great and NFL Hall-of-Famer, and based on extensive research in both public and media archives and Murchison family records, Hole in the Roof contains the inside story of the iconic venue where the Cowboys went on to play each of their five Super Bowl-winning seasons: where Murchison proved that stadiums could be a source of revenue surpassing even television.
About the Author
---
BURK MURCHISON, son of Clint Murchison Jr., is a partner of Murchison Capital Partners, LLP, an investment management firm based in Dallas. MICHAEL GRANBERRY is an arts and feature writer with the Dallas Morning News. A Dallas native, he has been at the newspaper since 1997, after nineteen years with the Los Angeles Times, where he began as a sportswriter.
Saturday, December 10th, 4:00PM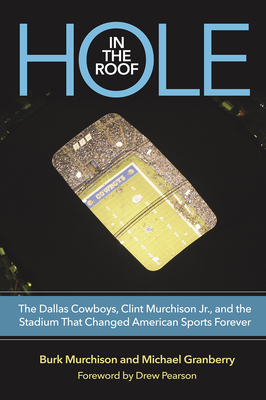 Hole in the Roof: The Dallas Cowboys, Clint Murchison Jr., and the Stadium That Changed American Sports Forever (Swaim-Paup Sports Series, sponsored by James C. '74 & Debra Parchman Swaim and T. Edgar '74 & Nancy Paup)
By Burk Murchison, Michael Granberry, Drew Pearson


$30.00

ISBN: 9781648430961
Availability: Coming Soon - Available for Pre-Order Now
Published: Texas A&M University Press - December 6th, 2022
---
Homepage Blurb:
Burk Murchison and Michael Granberry will be in store to discuss and sign copies of their new book, Hole in the Roof!