Monday, February 5th, 7:00PM
Event address:
10720 Preston Road
Ste 1009B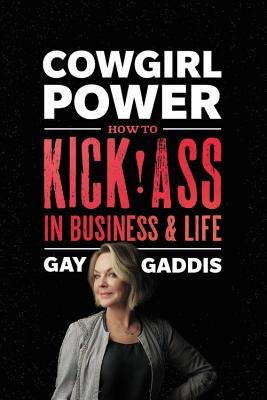 Cowgirl Power: How to Kick Ass in Business and Life
By Gay Gaddis

ISBN: 9781478948216
Availability: Special Order
Published: 2018-01-23T05:00:00.22Z

In COWGIRL POWER, advertising CEO and cowgirl Gay Gaddis shares insights and examples for women to lead like fearless, risk-taking cowgirls: enhance and exude confidence, developing personal power on all fronts.
As the owner of one of the largest female-owned independent agencies in the U.S. and former chairman of C200, one of the country's top women's business organizations, GAY GADDIS knows a thing or two about empowerment.
Gay's secrets of success have roots in the spirited strength of real cowgirls who were fearless risk-takers in everything they did. They've inspired Gay. As the owner of a fully operational Texas Longhorn Cattle Ranch, Gay is a true cowgirl. And she brings cowgirl power to the boardroom, as well. In COWGIRL POWER, Gay shares her story and an inspiring action plan for women who are ready to blaze their own trail in business and in life. Whatever your goals - to start a family or your own business, to climb the corporate ladder, organize community outreach, or run for office, Gay says it all comes down to power: knowing how to develop it and not being afraid to take it when it comes your way. You build your own power through knowledge, hard work, excellence, creativity and good will and Gay's book has the Cowgirl Tool Kit that supplies all the tools to get there.