---
ABOUT THE BOOK
Finn's search for his memory of one fateful night leads him to Iceland—only to be followed by an unhinged assassin intent on stopping him—in the riveting follow-up to Steel Fear, from the New York Times bestselling writing team Webb & Mann, combat-decorated Navy SEAL Brandon Webb and award-winning author John David Mann.

"One of the best crime novels of the year . . . a brilliant blend of procedural mystery and geopolitical thriller."—Jeffery Deaver, New York Times bestselling author of Hunting Time

Disgraced Navy SEAL Finn is on the run. A wanted man since he jumped ship from the USS Abraham Lincoln, he's sought for questioning in connection to war crimes committed in Yemen by a rogue element in his SEAL team. But his memory of that night—as well as the true fate of his mentor and only friend, Lieutenant Kennedy—is a gaping hole.

Finn learns that three members of his team have been quietly redeployed to Iceland, which is a puzzle in itself; the tiny island nation is famous for being one of the most peaceful, crime-free places on the planet.

His mission is simple: track down the three corrupt SEALs and find out what really happened that night in Yemen. But two problems stand in his way. On his first night in town a young woman mysteriously drowns—and a local detective suspects Finn's involvement. What's worse, a SEAL-turned-contract-killer with skills equal to Finn's own has been hired to make sure he never gets the answers he's looking for. And he's followed Finn all the way to the icy north.
---
ABOUT THE AUTHORS
John David Mann is coauthor of more than thirty books, including four New York Times bestsellers and five national bestsellers. His writing has won multiple awards and been featured in American Executive, Financial Times, Forbes, Leadership Excellence, Huffington, Wired, and CrimeReads. His bestselling classic The Go-Giver (with Bob Burg) has sold over 1 million copies and won the Living Now Book Awards Evergreen Medal for its "contributions to positive global change."
Brandon Webb is the New York Times bestselling author of The Red Circle and Benghazi: The Definitive Report. A former U.S. Navy SEAL whose last assignment was Course Manager for the elite SEAL Sniper Course, he was instrumental in developing new curricula that trained some of the most accomplished snipers of the twenty-first century. Webb has received numerous distinguished service awards, including the Presidential Unit Citation and the Navy Commendation Medal with a "V" for "Valor," for his platoon's deployment to Afghanistan following the September 11 attacks.
Saturday, June 18th, 5:00PM
Event address:
5600 W. Lovers Lane
Ste 142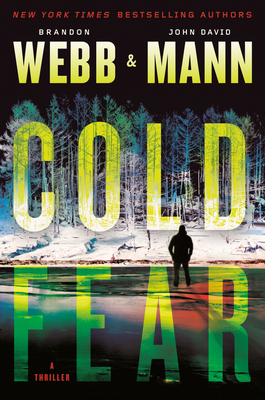 Cold Fear: A Thriller (The Finn Thrillers #2)
By Brandon Webb, John David Mann


$28.00

ISBN: 9780593356319
Availability: On Our Shelves Now
Published: Bantam - June 7th, 2022
---
Homepage Blurb:
John David Mann will be here to discuss their sequel to Steel Fear, Cold Fear, with their recurring hero Finn, a former Navy SEAL.