Our adult book buyer Lori Feathers facilitates an interesting and lively discussion about a fiction or non-fiction title each month. Come and share your opinions about the book and glean a deeper or different understanding of it from other readers. All are welcome! Check out more on Book Club here.
November's book club selection is A Heart So White by Javier Marías. Purchase it below!
---
DESCRIPTION
---
Winner of the IMPAC Dublin Award, and widely considered Javier Marías's masterpiece, A Heart So White is a breathtaking novel about family secrets that chronicles the relentless power of the past.

Juan knows little of the interior life of his father Ranz; but when Juan marries, he begins to consider the past anew, and begins to ponder what he doesn't really want to know. Secrecy--its possible convenience, its price, and even its civility--hovers throughout the novel. A Heart So White becomes a sort of anti-detective story of human nature. Intrigue; the sins of the father; the fraudulent and the genuine; marriage and strange repetitions of violence: Marías elegantly sends shafts of inquisitory light into shadows and onto the costs of ambivalence.
ABOUT THE AUTHOR
---
Javier Marías was born in Madrid in 1951. He has published ten novels, two collections of short stories and several volumes of essays. His work has been translated into thirty-two languages and won a dazzling array of interna­tional literary awards, including the prestigious Dublin IMPAC award for A Heart So White. He is also a highly practiced translator into Spanish of English authors, including Joseph Conrad, Robert Louis Stevenson, Sir Thomas Browne and Laurence Sterne. He has held academic posts in Spain, the United States and in Britain, as Lecturer in Spanish Literature at Oxford University.
Tuesday, November 1st, 6:00PM
Event address:
5600 W Lovers Ln Suite 142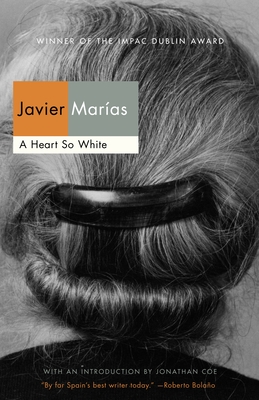 A Heart So White (Vintage International)
By Javier Marías, Jonathan Coe


$16.95

ISBN: 9780307950765
Availability: On Our Shelves Now
Published: Vintage - March 26th, 2013
---
Homepage Blurb:
NOVEMBER BOOK CLUB is A HEART SO WHITE by Javier Marías on Tuesday, 11/1 at 6:00 pm