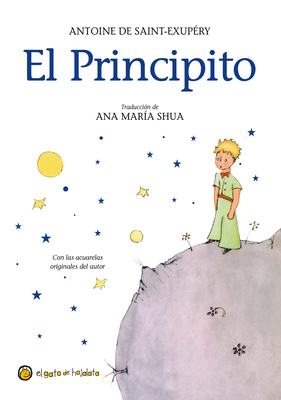 $10.95
Out of Stock Indefinitely
Description
---
Un clásico de la literatura infantil y juvenil. Un libro para descubrir en la infancia y releer en cualquier momento de la vida. Una lectura obligada que acerca al lector a los temas profundos de la vida como el amor, la amistad, la soledad y el sentido de la existencia.
A un joven piloto se le estrella su avión en medio del desierto de Sáhara. En la soledad de las dunas, conoce a un singular personaje: un principito, único habitante del asteroide B-612, que dejó su hogar en busca de nuevos horizontes. Durante los próximos diez días, mientras el piloto intenta reparar su avión con una reserva cada vez más escasa de comida y agua, conoce la insólita historia del principito. El principito le habla de su pequeño asteroide, de su amada rosa, de la seria amenaza de los baobabs y de sus viajes a otros planetas. En la medida en que el piloto va conociendo pasajes de la vida del principito, va creciendo su cariño por él y se entabla entre ellos una entrañable amistad.
ENGLISH DESCRIPTION
A children's literary classic. A book to discover during childhood and re-read throughout your life. A must-read that highlights deep life topics like love, friendship, solitude, and the meaning of life.

A young aviator crashes his plane in the middle of the Sahara Desert. In the isolation of the blistering sand dunes, he meets a strange little boy - the little prince. Over the next ten days, as the aviator tries to fix his plane on a fast depleting store of food and water, he also gradually learns the little prince's extraordinary story. The little prince talks of his own tiny planet, his beloved rose, the serious threat of baobabs, and of his travels to different planets. As the sad experiences of the little prince's life are unfurled, so grows the affection for him in the aviator's heart.
Antoine de Saint-Exupery's classic text has enthralled its readers, adults and children alike, over decades. The story is reflective of notions of loyalty, friendship, love and hope, easy but intense. The little prince's simplicity throws the futility of endless human desires into a sharp relief, making it as profound as it is poetic.
About the Author
---
Antoine de Saint-Exupéry nace en Lyón el 29 de junio de 1900 en el seno de una antigua familia aristocrática. Tras recibir educación en diversos colegios religiosos, al término de sus estudios secundarios intenta entrar en la Escuela Naval, pero no aprueba los exámenes de ingreso. En 1920 cumple el servicio militar en la Fuerza Aérea, y a partir de entonces la aviación se convierte en la gran pasión de su vida.

Su primer cuento ve la luz en 1926, el mismo año en que comienza su carrera de piloto en la compañía Latécoère. Poco después es destinado a Cabo Juby, donde escribe su primera novela, Correo del sur (1928). De África se traslada a Sudamérica con el encargo de establecer nuevas líneas comerciales. Allí concluye Vuelo nocturno, que se publica en 1931 con enorme éxito y obtiene el premio Fémina.

A partir de 1935, Saint-Exupéry trabaja como corresponsal de los periódicos Intransigeant y Paris Soir en Rusia y España, y con su avión Simoun participa en diversos raids como el París-Saigón y el Nueva York-Tierra del Fuego. Todos estos recuerdos, acumulados en diez años de vida aventurera, los vuelca en su novela Tierra de hombres (1939).

A los pocos meses, desatada la Segunda Guerra Mundial, combate como piloto de reconocimiento y, tras la caída de Francia, se instala en Nueva York. En la gran ciudad norteamericana escribe Piloto de guerra (1942), fruto de sus experiencias durante la contienda, y El Principito (1943), cuento infantil de gran originalidad que lo hizo universalmente famoso y que se ha convertido en uno de los fenómenos literarios más importantes de este siglo. En breve se reincorpora al servicio activo en el norte de África, donde escribe una obra de reflexiones filosóficas y políticas titulada Ciudadela, que sería publicada póstumamente (1948).

El 31 de julio de 1944, Antoine de Saint-Exupéry despega de un campo de aviación de Córcega para cumplir una misión de la que no regresaría jamás.