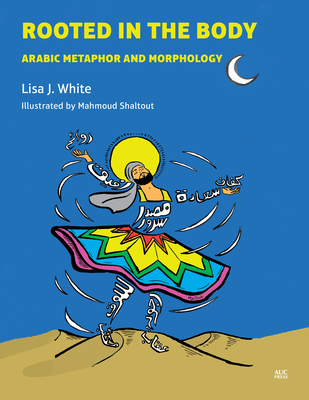 $53.93

NOT IN STOCK - Usually arrives in 7 - 14 business days
Description
---
A unique comic-illustrated exploration of the rich vocabulary derived from body parts in Arabic
We are all married to our bodies, for better, for worse, for richer, for poorer, in sickness and in health. As a result, the body is a hard-wired, powerful presence in thought and speech.
Rooted in the Body: Arabic Metaphor and Morphology
considers this basic premise of linguistic embodiment and shows how it is especially true of Arabic. Consciously and unconsciously, speakers of Arabic use reams of vocabulary derived from the body, making it an ideal springboard for a deeper and more nuanced understanding of Arabic morphology. Structurally speaking, Arabic is a language built on abstract roots, short sequences of single consonants that are systematically modified to produce actual vocabulary. Learning to recognize and manipulate those roots is an invaluable skill, especially for non-native adult learners, because it lightens their memorization load significantly.
Rooted in the Body
uses delightful side-by-side essays and comic illustrations to invite readers to explore Arabic's signature morphology as they reflect on some 120 metaphorically charged body parts. On the long road to proficiency, lexical precision is important, but so, too, is cultural fluency. As it demystifies the links between morphology and semantics,
Rooted in the Body
also uses citations from Arabic's rich cultural history to highlight the body's vital role in language.
This book will be a fascinating and invaluable resource, not only for advanced learners of Arabic but for linguists, rhetoricians, and philosophers of language.
About the Author
---
Lisa J. White was a senior instructor of Arabic (2009-2019) and former executive director (1993-97) of CASA (the Center for Arabic Study Abroad) at the Arabic Language Institute of the American University in Cairo, where she taught for over thirty years. A morphology and translation enthusiast, she received the 1999 University of Arkansas Translation Prize for her translation of Mohammed Afifi's Little Songs in the Shade of Tamaara (2000). Mahmoud Shaltout is a post-doctoral teaching fellow and assistant professor at The American University in Cairo.