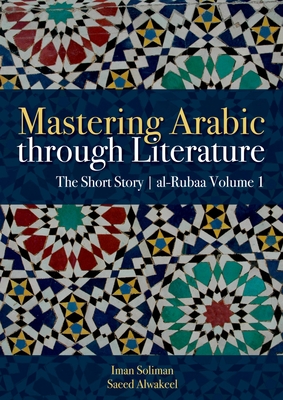 $46.58

NOT IN STOCK - Usually arrives in 7 - 14 business days
Description
---
In an innovative concept in the teaching of Modern Standard Arabic, this new content-based book aims to bolster study for advanced students in both linguistic skills and literary appreciation through the reading of short stories in the original Arabic by four great but very different writers: Mahmoud Taher Lashin, Naguib Mahfouz, Yusuf Idris, and Tayeb Salih. Creative reading tasks and exercises focus on the writing and literary styles of the four writers, while grammar is reinforced through text analysis and writing assignments, with an emphasis on building vocabulary and idiomatic expressions, as well as developing a deeper understanding of cultural issues. With an integrated skills approach, al-Rubaa contains not only reading but also writing, listening, and speaking activities.
The stories included in the book are:
by Mahmoud Taher Lashin: "From the Diaries of Noah," "That's Right"
by Naguib Mahfouz: Stories 26 and 29 from Tales of Our Alley, Dream 6 from Dreams of Convalescence
by Yusuf Idris: "House of Flesh," "In Passing"
by Tayeb Salih: "A Song of Love," "A Step Forward," "Yours until Death.
About the Author
---
Iman A. Soliman is the executive director of CASA (the Center for Arabic Study Abroad) at the American University in Cairo, and an instructor in the university's Arabic Language Institute. Saeed Alwakeel is an associate professor of modern literature and literary criticism at Ain Shams University, Cairo, and an instructor in the Arabic Language Institute of the American University in Cairo.