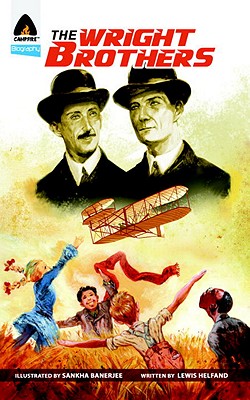 $10.99
Currently Out of Stock - No ETA
Other Books in Series
Description
---
Everyone knows the story of the Wright Brothers. Or do they? This biography conveys the well-known and the lesser-known facts about Orville and Wilbur's lives, and does so by weaving the biographical information into a wonderful story. The evocative illustrations combine with the storytelling prowess of Lewis Helfand to relate the Wright Brothers' joint biography in a way never done before.
About the Author
---
Lewis Helfand was born on April 27, 1978 in Philadelphia. With a political science degree and a passion for comic books, Lewis's first comic book was Wasted Minute, the story of a world without crime where superheroes are forced to work regular jobs. With the first issue well received, he was soon collaborating with other artists and released four more issues over the next few years.

Lewis continues to work as a freelance writer and reporter for a number of national print and online publications.
Praise For…
---
"An accurate and well-rounded account of an important historical event. A focus on the Wright Brothers as children also makes the characters more relatable for the target audience. Recommended to YAs as well as myriad adult readers of YA lit." -- Library Journal

"Helfand keeps the brothers from seeming like mythical figures by showing their failures, but he also shows that those failures were a source of motivation, not merely frustration, which is what makes the Wright brothers' story so inspiring. And their story doesn't end with their triumphant flight. Helfand follows through with the rest of their lives, so readers learn what happened next and how the brothers were not able to rest on their laurels, but had to keep fighting to keep their work from being forgotten or overshadowed. One particularly nice touch is that the roles of women in their lives were highlighted. Their mother Susan passed down to them them her aptitude with machines and their sister Katharine was a constant source of support throughout their lives. . . . Banerjee's soft colors and gentle lines give the right historical flavor to the drawings and his character designs are always clear enough for readers to follow easily. As with all Campfire titles, there are extras in the back–in this case factoids about the history of flight and a crossword puzzle, a nice touch for classroom use." -- School Library Journal


"I found The Wright Brothers fascinating. Whilst the focus of the book is, of course, on the invention and development of powered and controlled flight, Lewis Helfand and Sankha Banerjee show us that the lives of the Wright brothers were every bit as interesting as the contribution they made to history. The story is skilfully told, giving the reader an understanding not just of what the Wrights did but of who they were; and the deftly sensitive - and beautifully coloured - illustrations communicate a real sense of both character and period. Books that - to quote Lord Reith – 'inform, educate and entertain,' as this one does are to be prized. Young readers will be both captivated and inspired by the lives of the Wright brothers, and that can only be a good thing." — Armadillo


"...a well presented and thought out account, leaving the reader wanting to explore more about some of the events described."

— School Librarian


"I highly recommend Campfire's comics. They do what they are intended to do and do it in  a way that excites kids about classic literature."

— Chris Wilson, The Graphic Classroom (a resource for teachers and librarians)