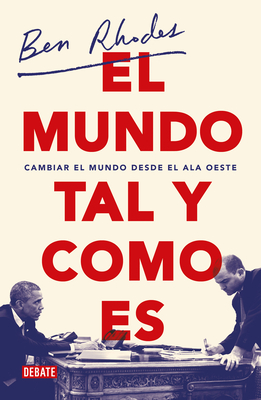 $28.55
Out of Stock Indefinitely
Description
---
¿Qué deseas saber sobre el ala oeste de la Casa blanca?.
Todas las crisis internacionales de la presidencia de Obama contadas desde dentro.
Ben Rhodes era un aspirante a escritor que empezó a redactar discursos  para un joven senador con ambiciones presidenciales en 2006. Salió de la  casa Blanca diez años más tarde, tras haber vivido en primera línea de  la política internacional toda la convulsa presidencia de Barack Obama.
Escrita con un gran talento narrativo, esta obra es el extraordinario  retrato de un político extraordinario, así como la crónica de ocho años  en los que un grupo de jóvenes brillantes intentó cambiar el mundo para  acabar descubriendo lo resistente que es. Rhodes cuenta algunos de los  momentos más conmovedores, tensos e importantes de la administración  Obama: la captura de Bin Laden, la respuesta a la Primavera Árabe, el  acuerdo nuclear con Irán, las negociaciones secretas con el gobierno  cubano para normalizar las relaciones, y la confrontación del  resurgimiento del nacionalismo y el nativismo que culminaron con la elección de Donald Trump.
A la espera de las memorias de Obama, este es sin duda el mejor libro sobre aquellos años.
ENGLISH DESCRIPTION
From one of Barack Obama's closest aides comes a revelatory behind-the-scenes account of his presidency—and how idealism can confront harsh reality and still survive—in the tradition of Arthur Schlesinger, Jr.'s A Thousand Days: John F. Kennedy in the White House.
For nearly ten years, Ben Rhodes saw almost everything that happened at the center of the Obama administration—first as a speechwriter, then as deputy national security advisor, and finally as a multipurpose aide and close collaborator. He started every morning in the Oval Office with the President's Daily Briefing, traveled the world with Obama, and was at the center of some of the most consequential and controversial moments of the presidency. Now he tells the full story of his partnership—and, ultimately, friendship—with a man who also happened to be a historic president of the United States.  
Rhodes was not your typical presidential confidant, and this is not your typical White House memoir. Rendered in vivid, novelistic detail by someone who was a writer before he was a staffer, this is a rare look inside the most poignant, tense, and consequential moments of the Obama presidency—waiting out the bin Laden raid in the Situation Room, responding to the Arab Spring, reaching a nuclear agreement with Iran, leading secret negotiations with the Cuban government to normalize relations, and confronting the resurgence of nationalism and nativism that culminated in the election of Donald Trump.  
In
The World as It Is
, Rhodes shows what it was like to be there—from the early days of the Obama campaign to the final hours of the presidency. It is a story populated by such characters as Susan Rice, Samantha Power, Hillary Clinton, Bob Gates, and—above all—Barack Obama, who comes to life on the page in moments of great urgency and disarming intimacy. This is the most vivid portrayal yet of Obama's worldview and presidency, a chronicle of a political education by a writer of enormous talent, and an essential record of the forces that shaped the last decade.
Advance praise for The World as It Is:

"Ben Rhodes is one of the most brilliant minds and powerful storytellers I've ever known. In The World as It Is, he doesn't just bring you inside the room for key moments of Obama's presidency, he captivates you with the journey of an idealistic young staffer who becomes the president's closest friend and advisor—a journey that both cynics and believers will find riveting and hopeful."—Jon Favreau
About the Author
---
Ben Rhodes nació en Nueva York en 1977. Se graduó en Humanidades por la Universidad Rice (Texas) y tiene un máster de bellas artes en escritura creativa por la Universidad de Nueva York. Entre 2009 y 2017, Rhodes desempeñó el cargo de asesor adjunto de Seguridad Nacional del presidente Barack Obama. Se ocupaba de la supervisión de las comunicaciones de la Administración estadounidense relacionadas con la seguridad nacional, de la redacción de discursos y de la diplomacia pública. Antes de pasar a formar parte del equipo de gobierno de Obama, trabajó como redactor de discursos y asesor de política exterior en su campaña presidencial, a la que se incorporó en 2007. Es coautor, junto con Thomas Kean y Lee H. Hamilton, de Without Precedent: The Inside Story of the 9/11 Commission, el relato acerca del modo en que la Comisión del 11-S logró publicar su famoso informe.
Praise For…
---
«El mundo tal y como es es una clásica historia de maduración, de  un viaje del idealismo al realismo, narrado con franqueza e inmediatez.  No es un libro de política pesado. Hay una cantidad inimaginable de anécdotas que ilustran sin escandalizar.».-Joe Klein, The New York Times Book Review
«En El mundo tal y como es, Rhodes no muestra ningún signo del  amargo desencanto con el que George Stephanopoulos retrató a Bill  Clinton, ni la ironía que empapaba el relato con el que Peggy Noonan  describió a Ronald Reagan. Más que cualquier otro memorista de la Casa  blanca, Rhodes es una creación del hombre al que sirvió. Esta obra es la visión más cercana de Obama que probablemente tendremos hasta que el expresidente publique sus propias memorias.».-George Packer,  The New Yorker
«El mundo tal y como es empieza y termina con la reacción de Obama  ante la elección de Donald Trump. Durante el libro, se relatan  acontecimientos de alcance internacional en una cronología íntima y extremadamente informativa.».-Karl Vick, Time
«Ben Rhodes es una de las mentes más brillantes y uno de los escritores más formidables que jamás he conocido. En El mundo tal y como es,  no solo te invita a entrar en el despacho de Obama para presenciar los  momentos más clave de su presidencia, sino que te captiva con el viaje  de un joven idealista que se convierte en el consejero y amigo más  cercano del presidente. Es un viaje que tanto cínicos como simpatizantes encontrarán cautivador a la vez que optimista.».-Jon Favreau