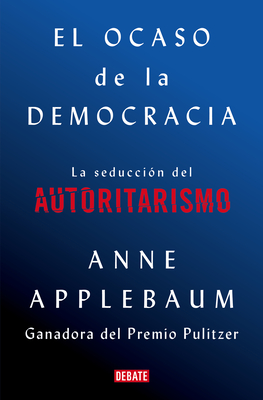 $21.95

NOT IN STOCK - Usually arrives in 7 - 14 business days
Description
---
Un análisis demoledor sobre el panorama político actual.

El mejor libro del año según The Washington Post y The Financial Times

Uno de los libros favoritos de Obama en el 2020.

Las democracias occidentales modernas están bajo asedio y el auge del autoritarismo es una cuestión que debería preocuparnos a todos. En El ocaso de la democracia, Anne Applebaum (Premio Pulitzer y una de las primeras historiadoras que alertó de las peligrosas tendencias antidemocráticas en Occidente) expone de forma clara y concisa las trampas del nacionalismo y de la autocracia. En este extraordinario ensayo explica por qué los sistemas con mensajes simples y radicales son tan atractivos.

Los líderes despóticos no llegan solos al poder; lo hacen aupados por aliados políticos, ejércitos de burócratas y unos medios de comunicación que les allanan el camino y apoyan sus mandatos. Asimismo, los partidos nacionalistas y autoritarios que han ido tomando relevancia en las democracias modernas ofrecen unas perspectivas que benefician exclusivamente a sus partidarios, permitiéndoles alcanzar unas cotas de riqueza y poder inigualables.

Siguiendo los pasos de Julien Benda y Hannah Arendt, Applebaum retrata a los nuevos defensores de las ideas antiliberales y denuncia cómo estas élites autoritarias utilizan las teorías de la conspiración, la polarización política, el terrorífico alcance de las redes sociales e incluso el sentimiento de nostalgia para destruirlo todo y redefinir nuestra idea de nación.

Escrito de forma magistral, y de lectura urgente y necesaria, El ocaso de la democracia es un brillante análisis pormenorizado del terremoto que está sacudiendo el mundo y una apasionante defensa de los valores democráticos.

ENGLISH DESCRIPTION

Named a BEST BOOK OF THE YEAR by The Washington Post and The Financial Times

ONE OF BARACK OBAMA'S FAVORITE BOOKS OF 2020

"How did our democracy go wrong? This extraordinary document . . . is Applebaum's answer." —Timothy Snyder, author of On Tyranny

A Pulitzer Prize–winning historian explains, with electrifying clarity, why elites in democracies around the world are turning toward nationalism and authoritarianism.

From the United States and Britain to continental Europe and beyond, liberal democracy is under siege, while authoritarianism is on the rise. In Twilight of Democracy, Anne Applebaum, an award-winning historian of Soviet atrocities who was one of the first American journalists to raise an alarm about antidemocratic trends in the West, explains the lure of nationalism and autocracy. In this captivating essay, she contends that political systems with radically simple beliefs are inherently appealing, especially when they benefit the loyal to the exclusion of everyone else. Elegantly written and urgently argued, Twilight of Democracy is a brilliant dissection of a world-shaking shift and a stirring glimpse of the road back to democratic values.
Praise For…
---
La crítica ha dicho...

«¿Cómo se torcieron nuestras democracias? Applebaum nos ofrece una respuesta en este extraordinario ensayo.» —Timothy Snyder

«La experiencia histórica y el conocimiento de Applebaum de la Europa contemporánea y de los Estados Unidos iluminan lo distintivo y eterno de los peligros políticos que enfrentamos hoy [...]. El ocaso de la democracia ofrece muchas lecciones sobre la antigua lucha entre los conceptos de democracia y de dictadura. Pero quizás lo más importante es lo frágil que es la democracia: su supervivencia depende de las decisiones que toman cada día las élites y la gente común.» —Sheri Berman, The Washington Post

«Un relato a menudo aleccionador, a veces impactante, pero nunca desesperante del auge del autoritarismo en Occidente.» —Los Angeles Review of Books