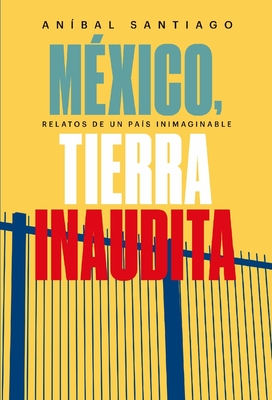 $24.15
Out of Stock Indefinitely
Description
---
The people in this collection of 19 stories are neither celebrities nor important public figures—they're everyday Mexicans who experience violence, hunger, and transborder life; they're Mexicans who enjoy the excesses of celebrity and Acapulco; they're bureaucrats and salespeople who live modest lives. These stories are told in rich detail in search of the places and the people who make up the Mexican landscape but who might typically go unnoticed.

Los personajes de esta colección de 19 crónicas no son celebridades ni actores importantes de la política, sino el mexicano y la mexicana del día a día que sufre la violencia, el hambre, la vida en la frontera con EEUU, o bien, los mexicanos se regocijan en los excesos de la farándula y Acapulco, la playa más socorrida por lo millonarios. También están los que disfrutan una vida modesta: una burócrata cualquiera, un anciano vendedor de autopartes, un futbolista ciego. Aníbal Santiago nos enseña un México que no se conoce y otro que es intolerable, como el de la trata de personas. En sus reportajes todo queda registrado: nombre, apellido, fecha, una rosa de plástico en la oficina de la más antigua burócrata de la Secretaría de Hacienda y las reacciones de un repartidor de mujeres que habla desde la cárcel. Porque Santiago entrevista de frente. México, tierra inaudita está integrado por 19 crónicas escritas en distintos tiempos que han logrado mantenerse relevantes y que fueron publicadas en diversas revistas como Gatopardo. Aníbal Santiago escribe en un estilo maximalista cuando recrea una imagen en la que no se escapan ni los pasos de sus personajes; busca los lugares y los actores que son forman del paisaje mexicano pero que por múltiples razones pasan inadvertidos. Santiago le da voz a un México del que no sea había escuchado antes.
About the Author
---
Anibal Santiago is a Mexican journalist and author. He received Mexico's National Journalism Award in 2007.