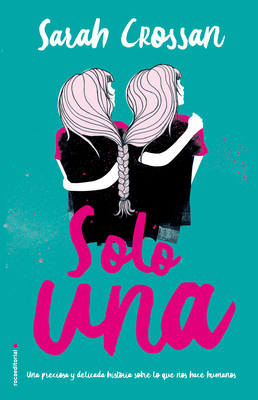 $19.75

NOT IN STOCK - Usually arrives in 7 - 14 business days
Description
---
Ganadora del Carnegie Medal

Una historia acerca de los vínculos inquebrantables, la esperanza, la pérdida y el amor.

Tippi y Grace lo comparten todo: ropa, amigos… incluso cuerpo. Escrita en verso libre, Sarah Crossan cuenta la conmovedora historia de unas hermanas gemelas muy unidas. Tippi y Grace. Grace y Tippi. Para ellas, es normal llevar la misma falda. Cada una de estas dos chicas de dieciséis años tiene su propia cabeza, su propio corazón y dos brazos, pero en el vientre se unen. Y viven felices, sin querer arriesgarse a la peligrosa cirugía de separación. Pero el cuerpo de las chicas parece tener vida propia y marca sus propios tempos. Y Grace no quiere admitirlo. Tampoco Tippi. ¿Durante cuánto tiempo más podrán esconder la verdad? ¿Cómo poder enfrentarse a la elección más difícil de sus vidas?   

ENGLISH DESCRIPTION

Winner of the Carnegie Medal * Winner of the YA Book Prize * Winner of the Children's Books Ireland Book of the Year Award

Tippi and Grace share everything—clothes, friends . . . even their body. Writing in free verse, Sarah Crossan tells the sensitive and moving story of conjoined twin sisters, which will find fans in readers of Gayle Forman, Jodi Picoult, and Jandy Nelson.

Tippi and Grace. Grace and Tippi. For them, it's normal to step into the same skirt. To hook their arms around each other for balance. To fall asleep listening to the other breathing. To share. And to keep some things private. Each of the sixteen-year-old girls has her own head, heart, and two arms, but at the belly, they join. And they are happy, never wanting to risk the dangerous separation surgery.
But the girls' body is beginning to fight against them. And Grace doesn't want to admit it. Not even to Tippi. How long can they hide from the truth—how long before they must face the most impossible choice of their lives?

Carnegie Medal–winning author Sarah Crossan gives us a story about unbreakable bonds, hope, loss, and the lengths we will go to for the person we love most.