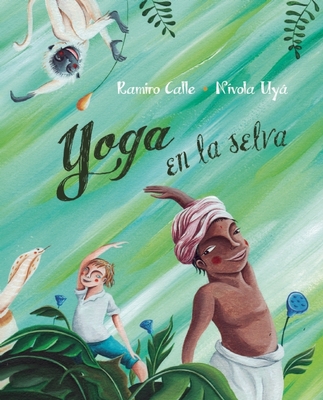 Description
---
Winner at the 2014 Living Now Book Awards. Follow these two friends into the depths of the jungle and discover the ancient science of yoga. Its wisdom and secrets await you in this book.
Ravi and Tony suddenly crashed into each other in the huge hall of the United States Embassy in Delhi by chance. Surprisingly, although they are very different and come from different cultures, instantly a beautiful friendship arises between them and they become excellent playmates. Enthusiastic, Ravi proposes a new adventure--to explore the wisdom of the jungle and teach Tony about the lush forest and introduce him to yoga, the science of the spirit that goes back thousands of years in India. They meet all kinds of exotic animals, and the two friends blend in with them and perform yoga asanas, thus balancing their body and mind.
Do you know the benefits of practicing yoga? It improves improve our poise and concentration, nurturing a learning process that will fill them with peace, happiness and a sense of being connected to nature.
Ganador de los Living Now Book Awards en 2014. Sigue a estos dos amigos hacia las profundidades de la selva y descubre la ciencia milenaria del yoga. Su sabidur a y sus secretos te esperan en este libro.
Cuando Rav y Tony se encuentran de golpe en el enorme hall de la Embajada de los Estados Unidos en Delhi por casualidad, ambos se llevan una sorpresa. Aunque son muy diferentes y vienen de diferentes culturas, al instante surge una bonita amistad entre ellos y se convierten en excelentes compa eros de juegos. Entusiasmado, Rav propone explorar la sabidur a de la selva y ense arle a Tony el exuberante bosque e iniciarlo en el yoga, la ciencia milenaria en la India. A trav's de todos los ex ticos animales que se encuentran, los dos amigos se mimetizan con ellos y realizan posturas de yoga, equilibrando as su cuerpo y su mente.
Conoces los beneficios de practicar yoga? Mejora nuestra concentraci n, fomentando de esta forma un aprendizaje que nos har sentirse unidos, felices y en paz.