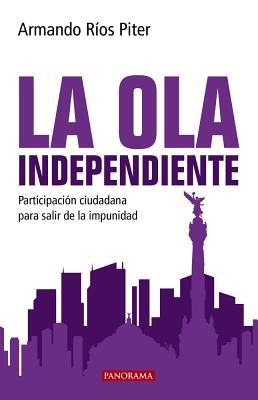 $9.95
Out of Stock Indefinitely
Description
---
La Ola Independiente is a political movement that aspires for citizens of diverse backgrounds and with no political affiliation to get involved in the 2018 Mexican electoral process. Through austere, novel, transparent campaigns, citizens will run for offices subject to popular election as well as the presidency of the Republic, with the ultimate goal of paving a fairer path towards a better future.

La Ola Independiente es un movimiento político cuyo objetivo es que diversos ciudadanos, ajenos a cualquier partido, se involucren en el proceso electoral de 2018. Por medio de campañas austeras, novedosas y transparentes, los ciudadanos contenderán por puestos de elección popular y por la Presidencia de la República, con el fin de abrir una ruta más justa hacia un mejor futuro para el país. Esta plataforma ciudadana busca transformar las instituciones y cambiar el régimen imperante por la vía institucional. Su modelo de acción reconoce el ámbito colectivo, el espíritu colaborativo, el valor de la comunidad y la organización horizontal.
About the Author
---
Armando Ríos Piter is a lawyer, economist, and politician. He holds a master's degree in national security from Georgetown University and has pursued graduate studies in public administration at Harvard. He has served in many official capacities for more than two decades. He has held a seat in the Chamber of Deputies of Mexico and he currently holds a seat in the Senate.