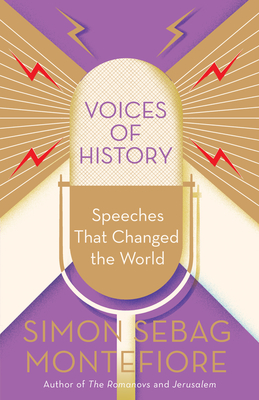 $16.95

NOT IN STOCK - Usually arrives in 7 - 14 business days
Description
---
A celebration of the great speeches of world history and cultural life. A VINTAGE ORIGINAL

In this exuberant collection, acclaimed historian Simon Sebag Montefiore takes us on a journey from ancient times to the twenty-first century. Some speeches are heroic and inspiring; some diabolical and atrocious. Some are exquisite and poignant; others cruel and chilling. The speakers themselves vary from empresses and conquerors to rock stars, novelists and sportsmen, dreamers and killers, from Churchill and Elizabeth I to Stalin and Genghis Khan, and from Michelle Obama and Cleopatra to Ronald Reagan, Nehru, and Muhammad Ali.

All human drama is here: from the carnage of battlefields to the theatre of courtrooms, from table talk to audiences of millions, from desperate last stands to orations of triumph, from noble calls for liberation to genocidal rants, from foolish delusions and strange confessions to defiant resistance and heartbreaking farewells. Voices of History spans centuries, continents, and cultures. In the accessible and gripping style of a master storyteller, Montefiore shows why these seventy speeches are essential reading and how they enlighten our past, enrich our present, and inspire--as well as hold warnings for--our future.
About the Author
---
SIMON SEBAG MONTEFIORE is a historian of Russia and the Middle East. Catherine the Great and Potemkin was short-listed for the Samuel Johnson Prize. Stalin: The Court of the Red Tsar won the History Book of the Year Prize at the British Book Awards. Young Stalin won the Los Angeles Times Book Prize for Biography, the Costa Biography Award, and le Grande Prix de la biographie politique. Jerusalem: The Biography was a worldwide best seller. Montefiore's books are published in more than forty languages. He is the author of the novels Sashenka and One Night in Winter, which won the Paddy Power Political Fiction Book of the Year Award in 2014. A Fellow of the Royal Society of Literature, Montefiore graduated from Cambridge University, where he received his PhD. He lives in London.