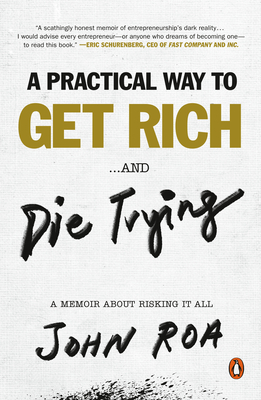 $18.70
Out of Stock Indefinitely
Description
---
"A scathingly honest memoir of entrepreneurship's dark reality... I would advise every entrepreneur--or anyone who dreams of becoming one--to read this book."
--Eric Schurenberg - CEO, Fast Company and Inc.

A young tech entrepreneur's memoir of building his hugely successful company and the mental and physical price he paid for it

At the age of twenty-six, John Roa founded a tech-consulting and design firm that he sold for a fortune to the largest tech company in San Francisco, Salesforce. His account of his rise from a self-described below-average student, to becoming a poster boy for the ambitious, successful young entrepreneur, to nearly destroying himself in the process is the subject of A Practical Way to Get Rich . . . and Die Trying. Roa's twenty-year-long journey from being dead-broke to wealth he never imagined is an absurd and often comical story of talent, luck, risk, rapidly changing technology, larger-than-life personalities, sex, gambling, and excessive alcohol and drug consumption. Roa's intention for his memoir is not to present a glamorous rags-to-riches saga, but, instead, to serve as a cautionary tale of the toll that entrepreneurship can take on ambitious young people unprepared for the physical and mental costs that "making it" can take. Those pitfalls eventually took their toll on Roa, who, in the face of round-the-clock pressure and risk taking, ultimately suffered a psychotic breakdown from which he almost didn't walk away. As he healed in the aftermath, he began to question the ethos that had brought him to that dark place, and he learned from other entrepreneurs that they, too, had experienced similar debilitating issues that they felt unable to admit, let alone discuss.

A Practical Way to Get Rich . . . and Die Trying is a compelling memoir and the foundation for a campaign of honesty and vulnerability in an industry that currently allows neither. Roa aims to be the bridge to helping young leaders confront the mental health issues and abuse that too often accompany the tech startup that so many have embraced as their salvation for their future.
About the Author
---
John Roa is an entrepreneur, technologist, humanitarian, and angel investor. He has run multiple technology companies, including design agency ÄKTA, which he sold to Salesforce in 2015. He is a passionate volunteer activist and animal advocate, having been a partner and donor to dozens of non-profit organizations as well as founding and running his charitable organization, Digital Hope. He hosts The John Roa Show podcast series and is a public speaker on topics ranging from entrepreneurship to mental health. John currently lives in Manhattan.
Praise For…
---
"A Practical Way to Get Rich and Die Trying is a scathingly honest memoir of entrepreneurship's dark reality—the crushing stress, the minuscule odds of success, the trauma of failure that is always peering over most founders' shoulders. As editor of Inc. magazine, I followed John Roa's successful rise at ÄKTA. To learn from this book what was really going on in his heart and his company at that time is powerful and sobering. I would advise every entrepreneur—or anyone who dreams of becoming one—to read this book. There's no better way to understand how immensely challenging the entrepreneurial path really is, and what heroes the people who undertake that journey truly are."
—Eric Schurenberg - CEO, Fast Company and Inc.
 
"I thought I would be reading a story about a friend and successful entrepreneur. What I got instead was one of the most honest and well-articulated narratives that I've ever read on the rollercoaster that comes along with success in our modern culture. John's vulnerability and security shine through as he gives a genuine insight into his journey of success that also reflects upon the necessary resilience to persevere through tough times as a leader, and make the journey all the more rewarding. I would encourage every leader, entrepreneur and coach to read this immediately."
—Sean McVay, head coach of the Los Angeles Rams

"John is one of the few shining a light on the dark side of entrepreneurship. The same drive that makes a lot of us successful is the same force that drives a lot of us to stand face-to-face with our demons. This is a must-read book."
—Jordan Harbinger, host of the Jordan Harbinger Show
 
"For young entrepreneurs seeking to win the glittering—but personally destructive—startup game, it is essential reading. . . . A candid and disturbing memoir of the ups and downs of entrepreneurship."
—Kirkus Reviews
 
"Business memoirs are so often heroic accounts of innovation, growth, and crushing the competition that it's gratifying to encounter a book like Roa's A Practical Way to Get Rich, which turns the standard narrative on its head by looking at the personal costs of success rather than just its benefits. Roa's deep but hilarious look at his own failures and missteps can serve as a caution and inspiration to a generation of upcoming entrepreneurs." 
—Mario Lopez, actor and TV host
 
"From a story-telling perspective, this is about as good as it gets. John does a brilliant job of combining personal vulnerability and business intelligence with raucous humor, keeping the reader deeply engaged. This is a gripping and compelling page-turner."
—Anthony Hemingway, Golden Globe-winning director

"What a wild ride! John's true entrepreneurial story is a high-wire act complete with humor, darkness, hustle, grit, and luck. Once you start reading his story you won't be able to put it down. A binge-worthy reading adventure!" 
—Alex Bhathal, owner, Sacramento Kings  
 
"John exposes the all-too-often neglected human side of success. The spiritual and mental taxation of success is rarely talked about. Here we get an inside look at the opposing forces that govern this realm and the fine line that separates them. I know firsthand how toxic the world of the entrepreneur can be, and when things get rolling, it can be every bit as dark as the music business, possibly more. To even navigate it successfully is a hero's journey. To come out the other side reborn, with a foundation of compassion and a goal of helping others is simply super-human. John does both, and in the process experiences the edges of light and darkness in a way that few have."
—Jimmy Chamberlin, drummer, The Smashing Pumpkins

"Entrepreneur Roa's memoir provides a rude awakening to the realities of the difficult aspects of pursuing the entrepreneurial dream. He's transparent about his struggles, anxiety, and unhealthy coping mechanisms in hopes that others can learn from his mistakes and lessons."
—Parade