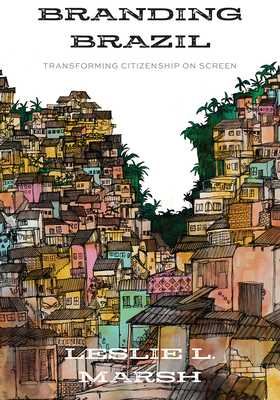 $33.95
Out of Stock Indefinitely
Description
---
Branding Brazil examines a panorama of contemporary cultural productions including film, television, photography, and alternative media to explore the transformation of citizenship in Brazil from 2003 to 2014. A utopian impulse drove the reproduction of Brazilian cultural identity for local and global consumption; cultural production sought social and economic profits, especially greater inclusion of previously marginalized people and places. Marsh asserts that three communicative strategies from branding–promising progress, cultivating buy-in, and resolving contradictions–are the most salient and recurrent practices of nation branding during this historic period. More recent political crises can be understood partly in terms of backlash against marked social and political changes introduced during the branding period. Branding Brazil takes a multi-faceted approach, weaving media studies with politics and cinema studies to reveal that more than a marketing term or project emanating from the state, branding was a cultural phenomenon.
About the Author
---
LESLIE L. MARSH is an associate professor at Georgia State University in Atlanta. She specializes in Latin American film and media studies, focusing on Brazil and more broadly on questions of citizenship. She is the author of Brazilian Women's Filmmaking: From Dictatorship to Democracy and co-edited with Hongmei Li The Middle Class in Emerging Societies: Consumers, Lifestyles and Markets.
 
Praise For…
---
"
Branding Brazil
is a clear-eyed and systematic evaluation of the power of publicity in the modern era. Marsh examines diverse representations of Brazil in international cinema, television, and photography as well as in built environments, cultural policies and practices of citizenship, showing us the conflicts and contradictions that emerge when national territories are produced as sites of global consumption. Combining a strong theoretical imagination with trenchant industrial and textual analyses, Marsh exposes how plans to 'build a better Brazil' are made meaningful in cultural and economic spheres —with lasting consequences for ideals of diversity, equality, and belonging."  
— Melissa Aronczyk
"
Branding Brazil
is an exceptionally thoughtful and well-developed exploration of how nation branding through film and television takes place both within a nation and, though much of the same content, beyond it. Leslie Marsh's knowledge of Brazil really stands out as she does both close reading of texts and exploration of the changing politics and cultural dynamics of the country."  
— Joseph Straubhaar
"This is an audacious book that makes an indispensable contribution to our understanding of one of the most contradictory periods in contemporary Brazilian history. Leslie Marsh uses branding to discuss the construction of a 'new' Brazil through the discursive practices of film, photography, and television to elucidate how they were shaped by utopian impulses and challenged, but also often upheld, the inequities of capitalism."  
— Ana M. López
"
Branding Brazil
is relevant and timely in its importance to understanding narratives and cultural policies that sought to redefine Brazil's identity between 2003 and 2014. Using race and gender as its starting point, it explores some of the tensions and contradictions that were part of a nation branding project. The chapters trace economic shifts that go from an increase in the number individuals who entered the middle class in the beginning of the 2000s to a movement of disillusionment when, due to the economic crisis, large numbers of people were forced to live in extreme poverty. Based on a broadly array of cultural artifacts, including films, music, and TV programs, Marsh illustrates how racial and gender inequalities, notions of white supremacy and the myth of racial democracy still play out in everyday life in Brazil. The book is an important addition to the field of Lusophone studies, contributing to key contemporary discussions on issues of social justice in present-day Brazil."  
— Katia C. Bezerra
"
Branding Brazil
takes a multimedia approach to understand the intertwining between citizenship and neoliberalism, and the social uses of cinema, photography and television in the construction of communicative strategies and nation-branding. In this endeavor, Leslie Marsh offers us an original blueprint to read media across Latin America, while illuminating the cultural complexities of Brazil's tumultuous present."  
— Ignacio M. Sánchez Prado
"As it assesses strategies of branding during a particularly effervescent moment in Brazilian history, this book articulates the role of media in shaping national identity and citizenship ostensibly defined by the postnational."
— Hoor Elshafei