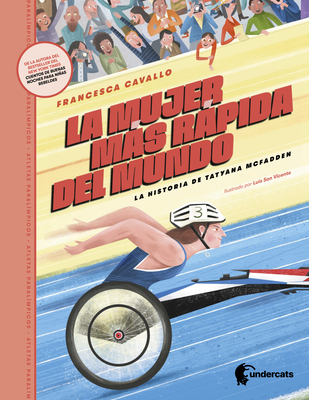 $18.99

NOT IN STOCK - Usually arrives in 7 - 14 business days
Description
---
Escrito por Francesca Cavallo, autora de Cuentos de buenas noches para ni as rebeldes, uno de los libros m's vendidos seg n el New York Times.

Esta es la verdadera historia de la campeona paral mpica Tatyana McFadden.
Tatyana naci con espina b fida en Rusia y se cri en un orfanato donde camin con sus manos durante los primeros seis a os de su vida. En 1994, fue adoptada y se mud a los Estados Unidos. A la edad de ocho a os, Tatyana comenz a competir y batir r cords. Hoy en d a, es considerada la mejor corredora en silla de ruedas de todos los tiempos y la mujer m's r pida del mundo.

El primer libro de la serie Atletas Paral mpicos, una serie de libros ilustrados de no ficci n que cuenta la historia de 4 campeones que hacen las cosas a su manera y est n reinventando a los deportes.
From Francesca Cavallo, author of the NY Times best seller Good Night Stories for Rebel Girls.
This is the story of 17-time Paralympic medalist Tatyana McFadden.

Born with spina bifida in Russia, Tatyana was raised in an orphanage where she walked on her hands for the first six years of her life. In 1994, she was adopted and moved to the United States, where she started racing and breaking records; and is now considered the best female wheelchair racer of all time, and the fastest woman on Earth.

First book in the non-fiction Paralympians series, a picture book series telling the stories of 4 champions who do things their own way and are reinventing sport.