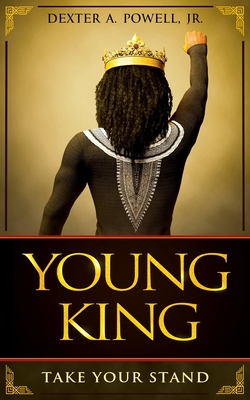 $14.99

NOT IN STOCK - Usually arrives in 7 - 14 business days
Description
---
Across our world Young Kings are looking for answers and they need them now. In reading Young King, Take Your Stand you will follow the journey of young Dexter Powell Jr. a 12-year-old overweight sixth grader from San Bernardino, California who craved attention but he craved food even more. From a young age Dexter's addiction to food only grew as the voices and the bullying from his peers was intensified. Fear begin to set into his aching soul and crying out through stealing food became his way of life.
After Dexter's parents were divorced, he with his Mother and brother moved from a military base in Michigan back to California where they were originally from. Dexter became the self-appointed man of the house, vowing to do everything in his power to keep his Mother and brother safe during their new life together. Life was grand in Dexter's eyes because they had each other and that was enough for him. Although Dexter was the new leader of the house it did not translate to his 6th grade class where he was often getting in trouble for class infractions and his Mother was constantly being called to the school for one thing or another. One day, Dexter's world was severely shaken to the core when he decided to make a life altering decision to commit a crime that would have him committed into a life of juvenile delinquency and daily uncertainty.
Young king follows the journey of a young king, 12 years old and beyond the life that ensued after he choose crime rather than to face his consequences at home. This book, paints a clear picture of the reality of how one decision can change the rest of your life. So, which way will you decide to choose for your life today.