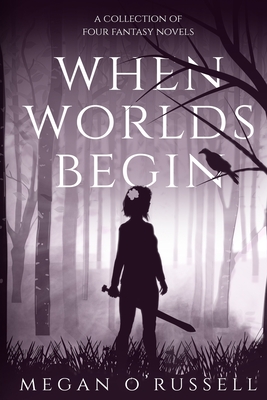 $32.99

NOT IN STOCK - Usually arrives in 7 - 14 business days
(Non-returnable)
Description
---
Hope at the end of the world.
Love stronger than magic.
Courage to topple kingdoms.
Adventures that reach new realms.

Readers rave about the four novels included in the When Worlds Begin boxset.
"I really enjoyed this novel It's on the same level as The Hunger Games." - BookBub Review of Girl of Glass
"It's the magic we loved in Harry Potter, but happening right here and right now in the US." - Amazon review of The Tethering

"This reminded me of Doctor Who, except from the standpoint of the Doctor's assistant." - Goodreads Review of The Girl Without Magic
"David fights Goliath that will pass the Bechdel Test " - Amazon review of Ember and Stone
When Worlds Begin offers four full-length novels by Megan O'Russell. From breathtaking adventures to dystopian darkness, this collection has something for every fantasy fan.
Included in this collection: Ember and Stone, Girl of Glass, The Tethering, and The Girl Without Magic.

Ember and Stone (Ena of Ilbrea, Book One)
Ena never hoped for a peaceful life. She never dreamt she'd become a killer either.

After her home is reduced to ash, Ena is swallowed by a world of secrets and magic. Legends warned of dark shadows hiding in the mountains. They didn't warn of the dangers of falling in love with a myth.
Girl of Glass (Girl of Glass, Book One)
The world is ending, but Nola has been chosen to survive.
This young adult dystopian novel looks at the apocalypse from the point of view of one of the few who has been chosen to survive. Blended with romance and a hint of paranormal, Girl of Glass asks the reader what the obligation of the privileged is to help the suffering.
The Tethering (The Tethering, Book One)
A dark spell may separate them forever.
When fate binds Jacob and Emilia together, war threatens to destroy all they hold dear.
Wizards are under attack, and Jacob and Emilia find themselves at the center of a battle that will decide the survival of magic.
Facing an enemy that can shatter their souls, will they find love or be devoured by flames?
The Girl Without Magic (The Chronicles of Maggie Trent, Book One)
Death would have been easier, but the Siren wasn't through with her.

The Siren dragged Maggie Trent out of a battle and into her Realm, a land where secrets hide in the shadows and pleasure comes at a price Maggie is unwilling to pay.

With the promise of adventure in new worlds, Maggie leaps into a journey of blood and romance.

Join Megan O'Russell's 100,000+ satisfied readers with this series starter boxset and prepare to dive into romance, magic, and worlds that will leave you craving more.