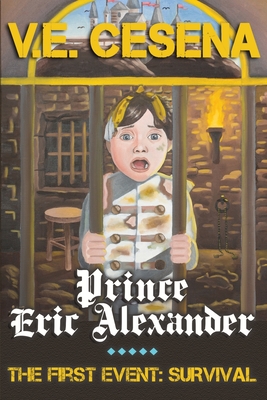 $16.09

NOT IN STOCK - Usually arrives in 7 - 14 business days
Description
---
"Eric " The Emperor's voice reverberated around the room, forcing Eric's eyes toward the throne. His Father stared at him, wide-eyed, body ridged, his fair-colored skin a deep shade of red.
Prince Eric Alexander von Battenburg is the middle son of the Emperor and Empress of the Moon Empire. The vast Empire spans hundreds of solar systems across the universe. Yet for young Prince Eric it doesn't matter his royal position, he is constantly in trouble.
Nothing ever goes right for the young Prince. His world is constantly in turmoil. Emperor Archibald reminds Eric of his faults and how he doesn't measure up to Charles. Charles, Eric's older Brother and future Emperor is constantly bullying Eric. "Why is everything I do always going wrong?" Eric always asks himself. "Nothing ever goes right."
At the important loyalty ceremony, in front of the royal court, and the entire Empire's ruling class, Eric humiliates his Father. As punishment and over the objection of his Mother, Eric is sent to the Moon Castle's Dungeon as punishment.
However, fate takes a turn. Promised an adventure by a wayward prisoner desperate to escape. Eric is whisked away from the Moon Castle, his home, and everything he knows. He is taken to the infamous Vulcury.
At Vulcury Eric learns the Moon Empire and his Family are under vicious attack. A powerful enemy is intent on crushing everyone Eric loves. There is only one-way to save the Empire and his Family. Prince Eric must enter the Vulcury military academy to become a Warlord and lead the Empire's Armies to victory.
To become a Warlord, Eric must go into Earth's past and survive five deadly Events. The young Eric agrees without truly understanding the consequences of his decision to join the First Event.
On the primitive plain and hills of North America, the difficult, strenuous and demanding life of the American Indian attacks the pampered Prince. Now Eric must survive deadly attacks by Crow, Cherokee and Ute warriors, enormous stampeding buffalo and endure the endless torment of the Amazon girl, Karro.
With death at every turn, will the misfortune prone Prince survive his First Event? Join in the adventure of Prince Eric Alexander and his quest to become a Warlord and against all odds begin the journey to save the Moon Empire and his Family.