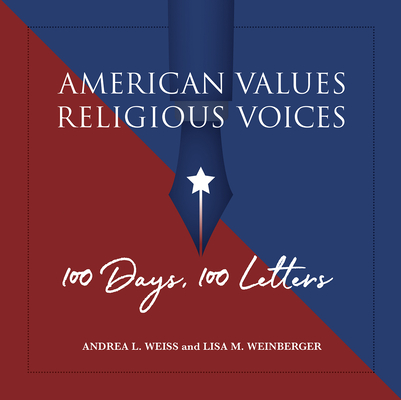 $31.85
Out of Stock Indefinitely
Description
---
In the aftermath of the 2016 presidential election, many Americans questioned how to respond to the results and the deep divisions in our country exposed by the campaign. Many people of faith turned to their religious communities for guidance and support. Many looked for ways to take action. In November 2016, biblical scholar Andrea L. Weiss and graphic designer Lisa M. Weinberger teamed up to create an innovative response: a national nonpartisan campaign that used letters and social media to highlight core American values connected to our diverse religious traditions.
 
American Values, Religious Voices: 100 Days, 100 Letters is a collection of letters written by some of America's most accomplished and thoughtful scholars of religion during the first 100 days of the Trump presidency. While the letters are addressed to the president, vice president, and members of the 115th Congress and Trump administration, they speak to a broad audience of Americans looking for wisdom and encouragement at this tumultuous time in our nation's history.
 
This unique volume assembles the 100 letters, plus four new supplemental essays and many of the graphic illustrations that enhanced the campaign.
 
Published near the midway point of the Trump presidency, this book showcases a wide range of ancient sacred texts that pertain to our most pressing contemporary issues. At a time of great division in our country, this post-election project models how people of different backgrounds can listen to and learn from one another. The letters offer insight and inspiration, reminding us of the enduring values that make our nation great.
 
About the Author
---
American Values, Religious Voices: 100 Days, 100 Letters is the result of a unique partnership between a biblical scholar and a graphic designer who joined forces after the 2016 presidential election to start a public dialogue about American values.
Rabbi Andrea L. Weiss, PhD, is Jack, Joseph and Morton Mandel Provost and associate professor of Bible at the Hebrew Union College—Jewish Institute of Religion and associate editor of The Torah: A Women's Commentary (CCAR Press, 2008). Lisa M. Weinberger is founder and creative director of Masters Group Design, a design and branding studio in Philadelphia, Pennsylvania.

After the election, Weiss and Weinberger created and coordinated the American Values, Religious Voices: 100 Days, 100 Letters campaign, with its website and social media outlets (@ValuesandVoices). Now they have edited this book as a way to expand the conversation and reaffirm the values that unite us as Americans.
 
Praise For…
---
"The letters in this remarkable collection, written by religious scholars representing Jewish, Christian, Muslim, Hindu, Buddhist, and Sikh traditions, remind us of fundamental American values sorely threatened today, as our nation is riven by deep socio-political divisions… A clarion call, not only to our leaders in Washington, but to us 'the people,' to enact the values that have made our nation a beacon of promise—freedom, justice, hospitality, tolerance, respect, and equal rights for all people. Their call is both timely and urgent." 
— William Madges, John J. and Robert E. Beckman Chair, theology department, Xavier University

"This book beautifully demonstrates what a national narrative that includes all of our religious diversity could look like. Every letter is a powerful reminder from each writer's own unique religious point of view of the sacredness of the American promise. In order to maintain our fidelity to this promise, the contributions of our different religions must become part of the broader American story. This book is an important contribution to that conversation."
— Zeenat Rahman, Director, Inclusive America Project, the Aspen Institute

"In dark times of moral crisis throughout history, it has been the prophetic visionaries of faith who have imagine an elevated world and inspired humankind to create a more enlightened and just reality. This unprecedented multi-faith compilation of fearless truth-telling and unconventional wisdom is not only a testament to the evolved virtues of the modern paradigm of American religious values, its life-affirming dissent and collective innovation of next-level American liberty is a critical model and movement for our age."
— Rev. Jennifer Crumpton, author of Femmevangelical: The Modern Girl's Guide to the Good News.

"Every citizen interested in the spiritual life of our country will want to have this wonderful book. Considered together, these remarkable letters constitute an inspiring tableau of America's unique religious diversity, challenging our nation to be true to its moral compass."
 
— Dr. Gary P. Zola, Executive Director, the Jacob Rader Marcus Center of the American Jewish Archives & Edward M. Ackerman Family Distinguished Professor of American Jewish History, Hebrew Union College—Jewish Institute of Religion