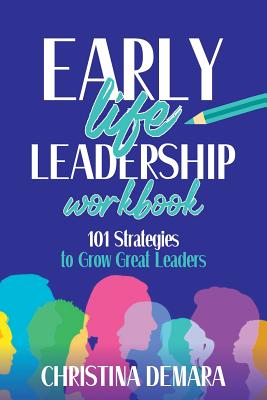 $15.99

NOT IN STOCK - Usually arrives in 7 - 14 business days
(Non-returnable)
Description
---
"I want the children in my life to grow up to be strong, ethical leaders " -Christina DeMara, Author
Early Life Leadership Workbook: 101 Strategies to Grow Great Leaders is perfect for youth. This workbook goes beyond the definition and examples of leadership. Christina's research-based workbook will guide you from a leadership skill, to why it's essential, and through a thought-provoking activity. This workbook asks open-ended questions to help increase brainstorming and thinking skills in future leaders. This workbook is an excellent learning tool for a classroom, homeschool, book study, peer group or camp.
Q. Who is this book for?
A. This book is ideal for middle and high school students.
Early Life Leadership Books & Resources
Early Life Leadership Workbook for Girls
Early Life Leadership Workbook
Early Life Leadership Kids Journal
Early Life Leadership in Children: 101 Strategies to Grow Great Leaders
Early Life Leadership: 101 Conversation Starters and Writing Prompts
Early Life Leadership in the Classroom: Resources, Strategies & Tidbits to Grow Great Leaders