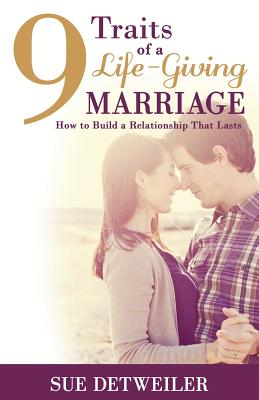 $15.97

NOT IN STOCK - Usually arrives in 7 - 14 business days
Description
---
Is it possible to enjoy a strong and healthy marriage--'till death do you part? Yes... with God Sharing with honesty and transparency, Sue Detweiler identifies the essential elements of a life-giving marriage. - Heal the broken places in your marriage - Strengthen your relationship with your spouse - Understand God's plan for your marriage - Revive your relationship with God's transformative power.
Sue Detweiler is a wife, mother of six, author, and pastor with more than twenty-five years of experience in marriage, ministry, and education. She is also a popular speaker who shares her heart and wisdom internationally on issues related to marriage, family, women, prayer, leadership, and ministry.
Sue Detweiler shares honestly and transparently in her book 9 Traits of a Life-Giving Marriage. With over 25 years of marriage and raising 6 children she knows how difficult developing a lasting relationship can be. She had a breakthrough in her marriage when she was face down before God and desperate for His help. She saw the brick wall of Criticism come down in her marriage and now has a ministry helping couples find safety and intimacy with each other.
Communication: Heatly, Life-Giving Communication helps marriages grow strong. True honesty is tempored with the integrity of wisdom. Sue helps couples set ground rules to help couples watch their words, listen attentively, speak honestly, and keep a positive perspective.
Intimacy is a hot topic for couples. Sue talks about the need for couples to build emotional, spiritual and physical intimacy with each other. She compassionately talks about struggles surrounding having a great sex life in christian marriages and overcome conterfeit intimacy and unhealthy behavior patterns
Endurance is key to have a marriage that lasts. Sue encourages couples to take a stress test for their marriage. Every couple has the temptation to blame each other during times of stress, but Sue encourages embracing faith to fuel endurance needed for every lasting marriage.
God has the ability to bring Restoration in marriages through the power of His redemptive love. Couples can keep their marriage from ending in the statistic of divorce.
Revitalize expectancy in marriage. Forgiveness, restoration, and hope paves the way for fresh expectancy in marriage.
Find more resources for Christian marriages at SueDetweiler.com