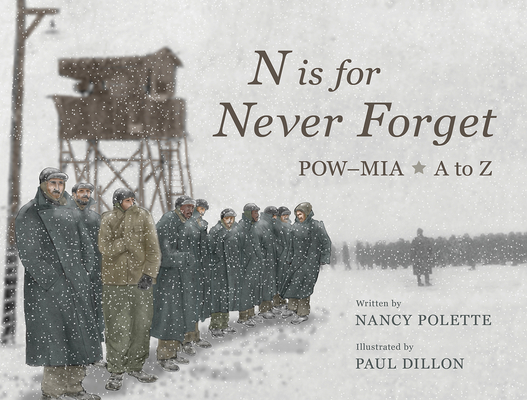 $16.95
Currently Out of Stock - No ETA
Description
---
"...packed with riveting real-life stories, fascinating facts about POWs and MIAs, and unique art and illustrations..." —Stars and Stripes
Engaging true stories for older children and adults!
A is for Artists whose artwork reflects the hardships of prison life. E is for Escape as determined prisoners make daring plans to regain their freedom.

More than one hundred thousand American service members have been captured by an enemy and imprisoned during war. Tens of thousands are still missing. This book tells the true stories of only a few of these brave men and women, but their stories represent the experiences of many others.
The accompanying illustrations are based on surviving artwork, current and historic photographs, and firsthand descriptions of people, places, and events.

From Geneva Conventions to Operation Homecoming, Tap Code to Yellow Ribbon and more, N is for Never ForgetT is a compelling journey through wartime history, honoring the sacrifices of prisoners of war (POWs), those missing in action (MIA), and their families.
Poignant illustrations and stories capture key people, concepts, and memorials to help readers understand and honor the sacrifices endured by men and women prisoners of war and missing in action on behalf of freedom. 
-- Engaging format interests readers of all levels. Single lines of text describe each letter's key message, while longer true stories complement full-page color illustrations and bring POW-MIA concepts to life.
-- Topics to Discuss and Ways to Honor sections prompt critical thinking, conversations, and calls to action to develop compassionate leaders of the future.

Foreword INDIES Book of the Year Awards - Finalist for Best Juvenile Nonfiction Book
Midwest Book Awards Finalist
About the Author
---
NANCY POLETTE has written more than 170 books for youth, including books about World War II spies, flight nurses, and prisoners of war.
Nancy taught elementary school for thirty years and directed gifted programs and school libraries for St. Louis County Schools. Her education career also includes thirty-seven years as a professor of education at Lindenwood University and director of the Laboratory School.
School Library Journal describes Nancy as "an educator with imagination, creativity, and an appreciation for the intelligence of children."
Nancy researched the life of Virginia Hall for five years to write The Spy with the Wooden Leg: The Story of Virginia Hall. She worked alongside illustrator Paul Dillon to create N is for Never Forget: POW-MIA A to Z, a middle grade nonfiction picture book honoring the legacies of prisoners of war and those missing in action.
Nancy lives in O'Fallon, Missouri, a suburb of St. Louis.
PAUL DILLON is an accomplished artist and president of the Jefferson Barracks POW-MIA Museum in St Louis. His father was a WWII veteran B-17 ball turret gunner and POW.
Praise For…
---
"True stories and compelling portraits of bravery from World Wars I and II to Vietnam, Korea, and the Iraq War forge a patriotic introduction from A to Z of some of America's most famous memorials and the men and women who inspired them. Thoughtful paintings in somber tones accompany each letter of the alphabet, and children are encouraged to honor many unsung heroes while celebrating themes of honor, justice, devotion, and sacrifice." — Pallas Gates McCorquodale, Foreword Reviews
 "N is for Never Forget is so packed with riveting real-life stories, fascinating facts about POWs and MIAs, and unique art and illustrations, I found myself lost in its pages…. For a moment, I almost forgot that this book was for kids." — Lisa Smith Molinari, Stars and Stripes
 "N is for Never Forget: POW-MIA A-Z should be in every elementary and middle school library in this country … ideal for a classroom discussion or for families who are looking for meaningful ways to honor veterans in their communities. This book can serve as a guide to help parents and educators teach children about service and sacrifice. … My hope is that more Americans can teach their children about the true cost of freedom. Reading this book is a good place to start."— Kathleen M. Rodgers, Military Spouse Book Review
 "War is a tough topic to explain to children. The human cost of war is even harder to understand. N is for Never Forget helps families and teachers tackle these challenging concepts in a kid-friendly format. … Polette hasn't shied away from the tough stuff, honestly sharing that service members died, were tortured, or starved while captured by the enemy. However, her treatment of it is fair and sensitive. … Throughout this book, real POW/MIA stories and experiences are shared. Having real people intertwined with the bigger topics … grounds the story and provides a dose of humanity." — Meg Flanagan, MilKidsEd.com
"A tremendous endeavor…beautiful, gripping illustrations." —
Kathy Lawton Brown
, Radio Arts Foundation, St Louis, 107.3 FM
"It is spectacular … for people of all ages. Paul Dillon is just a brilliant artist." — Blanquita Cullum, host of "The Hard Question", 1590WCGO Chicago