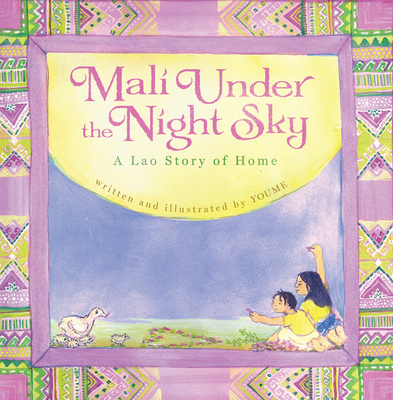 $17.95
Out of Stock Indefinitely
Description
---
Mali Under the Night Sky, a 2011 Skipping Stones honor book, is the true story of Laotian American artist Malichansouk Kouanchao, whose family was forced by civil war to flee Laos when she was five. Before the war began, Mali lived an idyllic life in a community where she felt safe and was much loved. But the coming war caused her family to flee to another country and a life that was less than ideal. What did she carry with her? She carried her memories. And they in turn carried her across the world, sharing where she is from and all that she loves with the people she meets.
Terry Hong of the Smithsonian Asian Pacific American Program's BOOK DRAGON, giving context to Youme's remarkable book, said, "Today, December 7, marks the 69th anniversary of the attack on Pearl Harbor, 'a date which will live in infamy, '... Seven decades later, infamy lives on, stealing childhoods, families, homes, lives. Now as another year comes to a close, we pray for peace ... again and again ... again and again ... Mali Under the Night Sky] is another hopeful, urgent prayer." And the Midwest Book Review calls it "a soul-stirring picturebook about the difficulties faced by wartime refugees, and deserves the highest recommendation."
Youme Landowne is an energetic and joyful painter, book artist, and activist who thrives in the context of public art. Youme has lived in and learned from the United States, Kenya, Japan, Laos, Haiti, and Cuba. In all of these places, she has worked with communities and individuals to make art that honors personal and cultural wisdom, creating community murals, illustrating tiny books, and teaching poetry in schools.
About the Author
---
Mali Under the Night Sky is Youme's third book. Her first book--Selavi, A Haitian Story of Hope--won the Jane Adams Peace Award in 2005. The American Library Association chose her next book--a graphic novel called Pitch Black--as a Top Ten Graphic Novel for Teens in 2009.
Praise For…
---
"Landowne smoothly includes several Laotian words and phrases in this deeply felt and gently told story." —Publishers Weekly

"Today, December 7, marks the 69th anniversary of the attack on Pearl Harbor, a date which will live in infamy," as forever coined by Franklin D. Roosevelt. Seven decades later, infamy lives on, stealing childhoods, families, homes, lives. Now as another year comes to a close, we pray for peace again and again again and again [Mali Under the Night Sky] is another hopeful, urgent prayer …" —Book Dragon

"As heartrending as the story is, it also offers a glimmer of hope in the love people have for their homeland and each other. Mali Under the Night Sky is a soul-stirring picturebook about the difficulties faced by wartime refugees, and deserves the highest recommendation. " —Midwest Book Review, featured as Reviewer's Choice

"With a spare first-person narrative and affecting watercolor-wash illustrations, this biography by the author of Sélavi, That Is Life: A Haitian Story of Hope (2004) tells of a family's escape from civil war in Laos." —Booklist

"Mali's life as a young girl in Laos was surrounded by love, tight family bonds and rich cultural experiences, but was also filled with the hardship and trials of growing up in country torn by civil war." —El Paso Scene

"Youme beautifully renders the true story of Malichansouk Kouanchao, who, the flyleaf tells us, 'walked from Laos to Thailand when she was five years old.' " —Papertigers.org