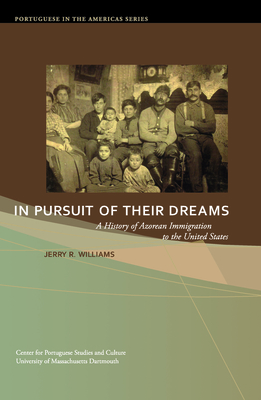 $30.98

NOT IN STOCK - Usually arrives in 7 - 14 business days
Description
---
Jerry Williams' history of Azorean immigration to the United States offers us valuable insight into the experience and culture of Portuguese immigrants and their descendents. This account fills a major gap in American immigration history and gives us a comprehensive overview of how Portuguese-Americans—now numbering close to a million people—have come to constitute a vibrant and highly visible presence within southeastern New England, the areas around San Francisco and San Diego, Hawaii, and the New Jersey/New York metropolitan area. Even though Azorean immigrants all came from similar cultural and social backgrounds, Williams shows how regionally specific opportunity structures and social hierarchies have contributed to significant differences within the Portuguese-American experience.

Starting with the whaling routes that first connected the mid-Atlantic archipelago with the ports of call in New England and California in the early 1800s, Williams lays out the complex relationship between the Azores and the US that has continued into the present. We learn how particular patterns of poverty, overpopulation and social inequality in the Azores pushed large numbers of the islands' inhabitants to leave their homes in search of better opportunities for themselves and their children. He tells the story of how the early whalers who jumped ship in New Bedford, San Francisco, or Hawaii were followed by kin and fellow villagers who had heard of plentiful jobs in New England's textile mills, gold and land in California, or agricultural work on Hawaiian plantations. Williams' account allows us to understand the importance of family and community connections throughout the immigrants' arduous transition from peasant life to industrial society.
About the Author
---
JERRY R. WILLIAMS is Professor Emeritus in the Department of Geography at California State Univeristy, Chico. He is the author of And Yet They Come: Portuguese Immigration from the Azores to the United States, an earlier version of the present volume. He has participated in a National Endowment for the Humanities seminar on Americans with Dual Cultural Heritages.