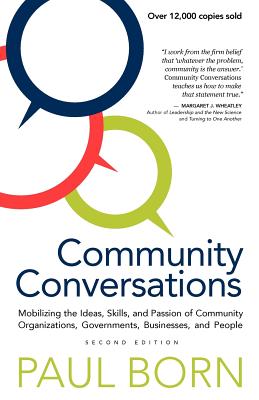 Description
---
Communities around the world are entering a new era of community building. Whether improving economic conditions and reducing poverty, re-energizing citizens and social programs, reducing crime, or revitalizing a troubled neighborhood, they are engaging people from all sectors as never before to work together as equals to improve their quality of life.
At the heart of this engagement are community conversations, in which common goals are embraced by a diverse array of people with different backgrounds and needs, and influencers are drawn from multiple sectors, including community organizations, the various levels of government, and businesses big and small.
Full of informative and inspiring examples of collaboration, Community Conversations captures the essence of creating such conversations and offers ten practical techniques to host conversations in your community.
Paul Born is a master storyteller who infuses his work, relationships, community, and life with the magic of conversation. He is internationally recognized for his innovative approaches to community building. Paul is president and cofounder of Tamarack - An Institute for Community Engagement. He is also the founding chair of the Canadian Community Economic Development Network, Vibrant Communities Canada, and Opportunities 2000.