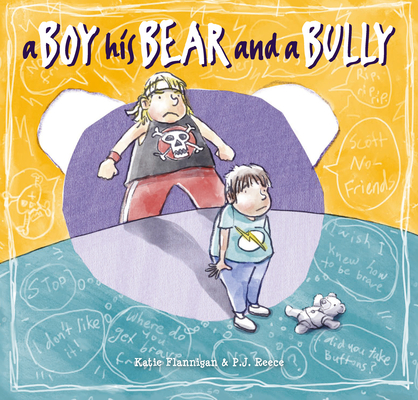 $18.99

NOT IN STOCK - Usually arrives in 7 - 14 business days
Description
---
For some kids, school is a place full of friends and fun. For others, though, it is a lonely place where bullies pick on them and it feels impossible to be brave. Meet Scott, Buttons and Duncan, otherwise known as A Boy, His Bear and a Bully.
Scott takes Buttons to school with him every day to help him feel brave. He has to, because every day, Duncan is mean to him. Just this week, Duncan has called him names, ripped his painting, and stolen his snack from his lunchbox. Then Buttons goes missing. With his one comfort gone, Scott has to look elsewhere to find his brave, and much to his surprise, he does.
A Boy, His Bear and a Bully addresses the global issue of bullying in a hopeful, gentle way that will resonate with children who have been on either side of a bullying incident. Seeing Scott learn to stand up for himself will help children who feel afraid of bullies face them in a constructive way. Scott's bravery also inspires his friend Rosie to report Duncan's bad behaviour to a teacher, giving children a positive model of assertive behaviour.
Scott's situation is extremely common across the world. His story provides children with clear guidance on what to do if they are also being bullied, and on the role friends should play in such a scenario. It is a sensitive, inspiring conversation starter for children, carers, professionals, and anyone who wishes they could be brave.
About the Author
---
Katie Flannigan is a full-time children's author with experience in illustration. Previously, she worked in the Health Sector for twenty years as an Occupational Therapist. She has a Masters in Neuro Linguistic Programming and has worked in three major teaching hospitals in Melbourne: The Alfred, the Royal Melbourne Hospital and the Royal Children's Hospital. Katie has completed a Faber Academy course with Allen & Unwin for Children's Books and was awarded a Maurice Saxby Mentorship in 2016. She is also an Honorary Life Member of the Women Chiefs of Enterprises International, the largest organisation of female business owners in the world. Katie lives in Melbourne with her husband, three children and way too many dogs.
PJ Reece is an Australian illustrator who has done illustration work for Blake Education, sold greeting cards of his designs at various retail outlets and has had two children's books published through Little Steps Publishing that feature his illustrations (Heads or Tails and Detective Sara Saves the Day!). His traditional pen/pencil and wash style illustrations have evolved into digital illustrations using an iPad and drawing app.
Praise For…
---
Katie Flannigan's sympathetic story is a guiding light in the dark world of bullying—BuzzWords

The more discussions we have about unfriendly behaviour with children, the more they will be able to assess a situation and behave appropriately. Bullying is not acceptable at any age.—Blue Wolf Reviews