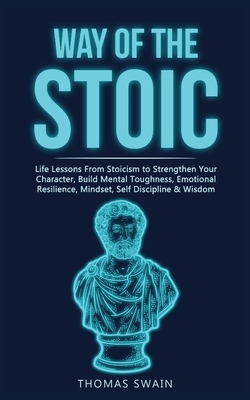 $19.99

NOT IN STOCK - Usually arrives in 7 - 14 business days
Description
---
More than two thousand years ago Stoicism revealed a way of living with less suffering and more happiness.
Even though the Ancient Stoics lived a long time ago they had startling insights into the human condition which have lasted until this day.
Stoicism sought answers to questions such as "how can I be more happy?" or "what is the purpose of life?" and much more...
However it has often been misunderstood as being uncaring or avoiding any pleasures. This is a false judgement which comes from Stoic ideas that teach us to not get carried away with irrational desires. Stoics are not stone cold people without feelings.
Maybe you're lost right now and you are seeking more meaning. Or maybe you're going through a rough time. Stoicism can help us put things into perspective, let go of worry, overcome adversity and improve our overall experience of life.
In essence, if you are looking for direction in your life and seek a deeper meaning, this is one philosophy that must be considered. Discover how to think and act like a Stoic with this book.
Inside you will discover
How to Understand Your Emotions & Gain Control Over Them
Exploring The Myths of Society, Relationships, Love & lust
The Three Positive Benefits of Negative Thinking
How Our Judgments Influence Us + Why They Are Often Wrong
The 40% Happiness Requirement Tip (use this to improve your happiness)
Mentally Prepare For Tough Circumstances Using Stoic Mindsets
Timeless Wisdom from The Ancient Stoics - Marcus Aurelius, Seneca & More
Understand Your Place in the Universe & Benefit From Virtuous Living
And much, much more..
Whether you are just starting out on your Stoic journey, or you're looking for some fresh ideas and perspective, this book will get you everywhere you need to go.
Simply put, Stoicism will teach you to become more happy and live your best life.
Begin now with this Book.