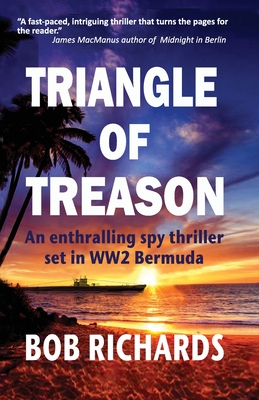 $18.00

NOT IN STOCK - Usually arrives in 7 - 14 business days
(Non-returnable)
Description
---
Triangle of Treason takes us on an exciting journey through a momentous period in Bermuda's history.
Retired Captain Rodney Horatio Grant RN, through a German friend, meets Hitler and soon finds himself embroiled in treason and murder as a dedicated spy for the Third Reich. .
Alongside this story of espionage and violence we meet Alan (Hooks) Jones, Bermuda ferryboat pilot and devoted family man. He makes friends with newly deployed Lieutenant Harley Harvey, call sign 'Swordfish'. We follow Swordfish as he falls in love with Hooks' daughter Becky, and so we learn of the difficulties endured in those days by an interracial couple striving to keep their relationship secret.
Upon uncovering the truth about Captain Grant, Swordfish and Hooks embark on a nail-biting mission to bring him down. Their adventures leave Hooks famous on the Island and Swordfish a war hero..
Triangle of Treason keep us absorbed from beginning to end. It will make you want to visit Bermuda by the time you have finished.