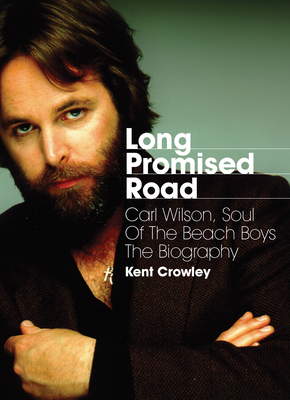 $19.95

NOT IN STOCK - Usually arrives in 7 - 14 business days
Description
---
No life in popular music touched on as many major musical milestones as that of The Beach Boys' Carl Wilson. While he is often unjustly overlooked as a mere adjunct to his more famous brothers Brian and Dennis, Carl was a major international rock star from his early teens.
The proud owner of one of the greatest voices in popular music--one that graced some of the most important records of the pop era, including 'God Only Knows' and 'Good Vibrations'--Wilson was also one of the first musicians to bring the electric guitar to the forefront of rock'n'roll. His musical skills provided The Beach Boys' entree into the music business, from which he then stewarded their onstage journey through the ups and downs of the 60s to their comeback in the 70s and into the role of 'America's band' in the 80s. Along the way, Carl quietly endured his own battles with obesity, divorce, substance abuse, and ultimately terminal cancer, all the while working to protect his family's business and legacy. This major new biography reveals the true story of modern rock'n'roll, lived from the center of the most important decades of popular music.
About the Author
---
Kent Crowley writes about music for numerous publications, including Vintage Guitar and Shakin' Fever. He researched Bob Keane's The Oracle of Del-Fi and edited Hollywood Gold Star Studio founders Stan Ross and Dave Gold's Gold Star Album. He is the author of Surf Beat (Backbeat, 2011), and also consulted on Freak Out In Cucamonga, an upcoming documentary on Frank Zappa's Pal Studios/Studio Z.
Praise For…
---
" ...for Beach Boys fans looking for fresh angles that might reflect back on the band's music and life, Long Promised Road is full of fun and surprises." - Pitchfork.com
"Long Promised Road - which takes it title from a song Carl co-wrote with lyricist Jack Rieley for the Beach Boys, his first ever songwriting credit - sheds some much overdue light on this Wilson brother." - Houston Press