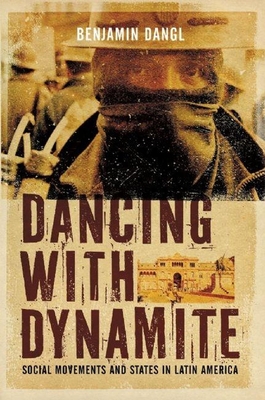 Description
---
Grassroots social movements played a major role in electing new left-leaning governments throughout Latin America, but subsequent relations between the streets and the states remain uneasy. In Dancing with Dynamite, Benjamin Dangl explores the complex ways these movements have worked with, against, and independently of national governments.
Recent years have seen the resurgence of worker cooperatives, anti-privatization movements, land occupations, and other strategies used by Latin Americans to confront economic crises. Using original research, lively prose, and extensive interviews with farmers, activists, and politicians, Dangl suggests how these tactics could be applied internationally to combat the exploitation of workers and natural resources. He looks at movements across the Americas, drawing parallels between factory takeovers in Argentina and Chicago and battles over water rights in Bolivia and Detroit. At the same time, he analyzes recurring problems faced by social movements, contextualizes them geopolitically, and points to practical examples for building a better world now.
Benjamin Dangl has worked as a journalist throughout Latin America for the Guardian Unlimited, The Nation, and the NACLA Report on the Americas. He edits TowardFreedom.com, offering a progressive perspective on world events, and UpsideDownWorld.org, covering activism and politics in Latin America. Dangl is a recipient of two Project Censored Awards and teaches Latin American history and globalization at Burlington College in Vermont.
About the Author
---
Benjamin Dangl is an independent journalist with one foot in Latin America and the other in the United States. He is the editor of TowardFreedom.com, which offers progressive perspectives on world events and UpsideDownWorld.org, an online magazine uncovering activism and politics in Latin America. He won a 2007 Project Censored Award for his reporting on US military operations in Paraguay.
Praise For…
---
Ben Dangl breaks the sound barrier, exploding many myths about Latin America that are all-too-often amplified by the corporate media in the United States. Read this much-needed book.—Amy Goodman, host of Democracy Now!

Dancing with Dynamite dares to navigate the cloudy waters of Latin American social movements in the wake of the neoliberal wave, something which increasingly fewer thinkers and activists dare to do, but which turns out to be urgent.—Raúl Zibechi, Uruguayan journalist and author of Dispersing Power: Social Movements as Anti-State Forces

Dangl brings complicated politics to life by infusing them with the magic, mystery and unbridled joy that invigorate social movements and permeate Latin American life in general.—Kari Lydersen, author of Revolt on Goose Island: The Chicago Factory Takeover and What it Says About the Economic Crisis

The relationship between mass movements and left-leaning governments is enormously complex. The subject requires careful handling. You don't have to agree with all of Dangl's characterizations of Latin American leaders to get a great deal from this thoughtful and well-reported book. Dancing succeeds in illuminating the gray zones between passion and power that must be negotiated on the road to building a humanist society everywhere.—Conn Hallinan, Foreign Policy in Focus

Dancing with Dynamite is more than a simple romantic fascination with far-off, exotic revolutions. It offers a glimpse of what we might find beyond the crisis that has paralyzed us, the first inklings of that process that, should it come to fruition, is guaranteed to strike terror in the hearts of the Great Men of History.—Clifton Ross, for CounterPunch

On the whole, Dangl guides the reader through a rapid and fascinating survey of South America's pink tide", capturing the vicissitudes of today's relationships between social movements and states. That the book is more a combination of journalism and polemic than an academic text generally works to its advantage in terms of readability and accessibility, although it does miss opportunities to dialogue with, and be informed by a broader body of thought on the nature of the state and its relationship to society. However, Dancing with Dynamite serves as a good primer for the newcomer to the region's contemporary politics, while its revealing interviews add additional texture for closer observers of Latin America.—Jason Tockman, North American Congress on Latin America

This book is important and, I dare say, necessary for everyone who cares about the potential of social movements to take the lead in their dance with power.—Malcolm Bell, Interconnect

The book prompts the reader to think about what we mean when we talk about social movements being co-opted or undermined by the state'. The state is complex and if we treat it as an undifferentiated institution we may not identify clearly enough what the problem is.

The lessons of this book for us in the UK concern both the possibilities and the pitfalls of the dance as well as the need to support the progressive changes now sweeping Latin America.—Mike Geddes, for Red Pepper

Dangl's latest offering provides an opportunity for the subjects of the social changes underway in Latin America to speak for themselves and tell their own story.—Federico Fuentes, for Green Left

At the moment South America is a laboratory of practice. Dancing with Dynamite is a fascinating account of the experiments happening there.—Matt Wasserman, for The Indypendent