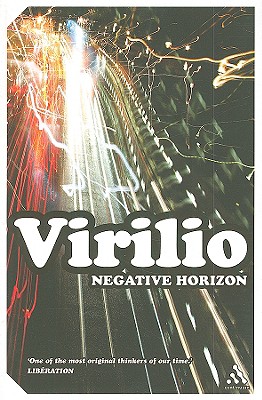 Other Books in Series
This is book number 60 in the Continuum Impacts series.
Description
---
Negative Horizon is Paul Virilio's most original and unified exploration of the key themes and ideas running through his philosophy. Provocative and forceful, it sets out Virilio's theory of dromoscopy: a means of apprehending speed and its pivotal - and potentially destructive - role in contemporary global society. Applying this theory to Western political and military history, Virilio exposes a compulsion to accelerate, and the rise of a politics of time over territorial politics of space. In exposing what he believes to be the consequences of this constant acceleration for human sensory perception and, ultimately, global democracy, Virilio offers a vision of history and politics as disturbing as it is original.
About the Author
---
Paul Virilio is Director of the Ecole Speciale d'Architecture in Paris and author of over 15 books, including Art and Fear and Desert Screen.