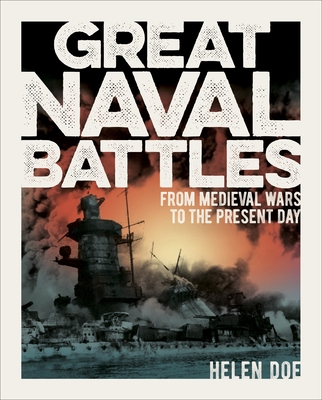 $24.99

NOT IN STOCK - Usually arrives in 7 - 14 business days
Description
---
This richly illustrated hardback steers a course through some of history's most epic engagements on the high seas, written by the renowned naval historian Dr Helen Doe.
From the medieval to modern times, this fascinating guide recalls over 50 naval battles which have changed the course of history as ships evolved from simple battering tams to sophisticated war machines. Arranged chronologically, two double pages spreads are dedicated to a different battle - including why they took place, who was in command, the technologies available to them and the battle tactics they used. Includes:
- Pearl Harbor
- The Battle of Trafalgar
- Battle of Midway
- Battle of Jutland
- The Battle of Leyte Gulf Featuring dramatic paintings, detailed battle plans, incredible full-color photography and fascinating objects and artifacts, this intriguing book charts the key role of naval warfare through this and explores how technology, leadership, luck, and even the weather, have played their part in defining the world we live in today.
About the Author
---
Dr Helen Doe gained her PhD at the University of Exeter where she is a Fellow of the Centre for Maritime Historical Studies. Among her many publications are The First Atlantic Liner and Enterprising Women in Shipping. Together with Professor Richard Harding, she edited Naval Leadership and Management, 1650-1950. She is a member of the UK Government's Council of Experts on National Historic Ships (these include HMS Victory, the Mary Rose, Cutty Sark and Warrior). She is a Trustee of the SS Great Britain and Vice Chairman of the British Commission for Maritime History.