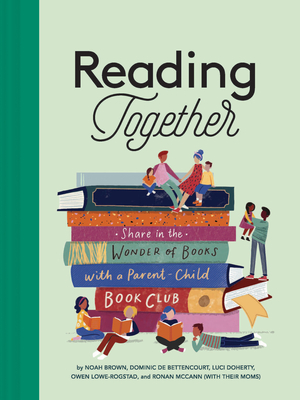 $19.95

NOT IN STOCK - Usually arrives in 7 - 14 business days
Description
---
Reading Together is the essential guide for parents interested in starting a book club with their kids and raising their children to become book-loving adults.

This book is the first guide to parent-child book clubs. Written by a group of moms and their adolescent children who started a book club while the kids were in first grade, this how-to book shares the dos and don'ts they learned over more than 100 meetings and 100 books.

Brimming with insight and inspiration, Reading Together includes the details of organizing and structuring meetings, tips on finding diverse books and choosing titles that spur discussion, common book club challenges and how to overcome them, and more.

Readers will also find plenty of curated booklists with brilliant recommendations for middle grade and YA readers across genres, from sci-fi to mystery, adventure, and graphic novels. This book is a go-to gift for bookish parents who hope to raise a reader and connect with their community through the magic of books.

ONE-OF-A-KIND: With detailed advice gathered over more than a decade and an engaging story at its core, Reading Together is an inspiring and useful handbook for parents looking to start a book club of their own and nurture a love of reading in their kids.

A WINNING FORMULA: This book promises a stronger parent-child bond and is a pure celebration of books and reading—a winning recipe.

GIFT APPEAL: Reading Together is an attractive gift or impulse-buy for a bookish parent or a parent of bookish kids.

Perfect for:

• Bookish parents with children
• Parents of bookish children
• Parents looking to encourage reluctant readers
• Parents looking for after-school activities that are good for their kids
• Grandparents of school-age children
• Elementary school teachers and librarians
About the Author
---
The kids: Dominic de Bettencourt is studying computer science at UC Berkeley; Luci Doherty is studying sports statistics at Northwestern University; Noah Brown is studying jazz composition and atmospheric science at the University of Washington; Owen Lowe-Rogstad is studying film and political science at the University of Oregon; and Ronan McCann is studying mathematics at Colorado College.

The moms: Ann Delehanty is a professor at Reed College; Kristin Doherty is a social worker; Lissa Kaufman is a lawyer; Dana Lowe-Rogstad is a former teacher now working at a creative agency; and Michelle McCann is an award-winning children's book author and editor.

Together they created a book group that met every month for 11 years until the kids went off to college. All of the authors live in Portland, Oregon.

Liz Kay is an Illustrator based in West Yorkshire, UK.