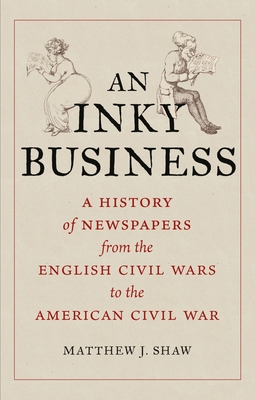 $24.75

NOT IN STOCK - Usually arrives in 7 - 14 business days
Description
---
An Inky Business is a book about the making and printing of news. It is a history of ink, paper, printing press, and type, and of those who made and read newspapers in Britain, continental Europe, and America from the British Civil Wars to the Battle of Gettysburg nearly two hundred years later. But it is also an account of what news was and how the idea of news became central to public life. Newspapers ranged from purveyors of high seriousness to carriers of scurrilous gossip. Indeed, our current obsession with "fake news" and the worrying revelations or hints about how money, power, and technology shapes and controls the press and the flows of what is believed to be genuine information have dark early-modern echoes.
About the Author
---
Matthew Shaw is the librarian of the Queen's College, University of Oxford, and formerly the lead curator of the Americas Collections at the British Library. He is the author of Time and the French Revolution: The Republican Calendar, 1789–Year XIV.
Praise For…
---
"A history of the radical, revolutionary, rowdy roots of the newspaper industry makes for a rip-roaring read. . . . An enthralling chronicle of news-gathering and presses rolling. . . . Many of the virtues and vices of today's press may be spotted in the papers of yesteryear. Fulminations against fake news, for example, predate not just our era but the main period covered by the book: in 1487 Henry VII issued an edict against 'forged tidings and tales.'"
— New European

"Shaw's An Inky Business is a vivid and incisive account of the origins of newspapers and their extraordinary role in the transformation of society over two hundred years. With the very concept of news under threat, this book could not be more timely."
— Paul Lay, editor of "History Today" and author of "Providence Lost: The Rise and Fall of Cromwell's Protectorate"

"A nuanced and thoughtful study of a key era in the evolution of the media environment."
— Andrew Pettegree, University of St Andrews, author of "The Invention of News"