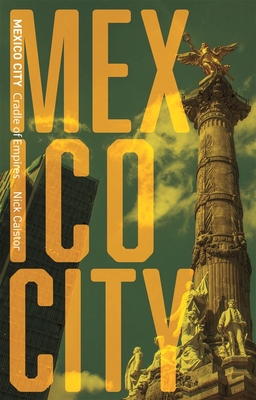 Description
---
Mexico City has always been a seat of empire. With its grandiose pretensions, sheer swagger, and staggering proportions, it gives the impression of power exercised over great time and distances. And yet this power has frequently been contested, lending the city a tough, battle-hardened look. At the same time, life in the Mexican capital can be carefree and intoxicating, and the city continues to offer any visitor not only glimpses of past grandeur, but of the fascinating wealth of the culture of Mexico today.

This book explores how the city has grown and evolved from the Tenochtitlan city-state of the Aztecs to the capital of the Spanish empire's "New Spain," French intervention, revolution, and the newly branded CDMX. Nick Caistor leads us through centuries of history and into the material city of today: from recently constructed museums and shopping malls, to neighborhoods where age-old traditions still appear to be the norm. Whether sampling ice cream at Xochimilco, watching freestyle wrestling at the Arena Mexico, or savoring long Mexican breakfasts, Nick Caistor reveals why Mexico City continues to fascinate and beguile us.
About the Author
---
Nick Caistor is a former BBC Latin America analyst and Latin American editor of Index on Censorship magazine. He is the author of Mexico City: A Cultural and Literary Companion and Octavio Paz, the latter also published by Reaktion Books, as well as the editor of two anthologies and translator of many novels by Latin American and Spanish authors.
Praise For…
---
"Celebrating the city's wonders without shying away from the darker periods of its history, Mexico City is a concise and often surprising companion to this long-suffering, infuriating, and endlessly captivating place. . . . Sweeping through so many centuries in a relatively short space is no mean feat, but Caistor avoids monotony or information overload by peppering his account with vivid multi-sensory descriptions. . . . The illustrations contribute to his kaleidoscopic, magpie-like way of telling the city's story."
— Times Literary Supplement

"Caistor gets to the root of what makes Mexico, both City and country, so enthralling."
— Catholic Herald

"It is not easy to understand Mexico City. Even its inhabitants are often lost in the enigmas of its history and its streets. The Mexicans themselves need translators to guide them through the labyrinths of this gigantic city. Caistor in this wonderful book proves to be a great decoder of the mysteries of the ancient Tenochtitlan, now a fascinating postmodern urban monster. Mexico: Cradle of Empires is the best companion for the curious traveler who wants to go beyond the myths and become immersed in its fascinating reality."
— Roger Bartra, author of "The Cage of Melancholy: Identity and Metamorphosis in the Mexican Character"