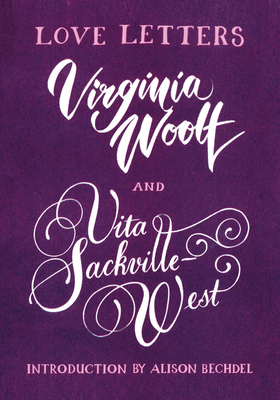 $14.95
Out of Stock Indefinitely
Description
---
With an original introduction by Alison Bechdel, author of Fun Home and creator of the "Bechdel Test."

"I am reduced to a thing that wants Virginia. I composed a beautiful letter to you in the sleepless nightmare hours of the night, and it has all gone. I just miss you, in a quite simple desperate human way."
In 1922, the relatively unknown writer Virginia Woolf met the popular author, aristocrat—and notorious Sapphist—Vita Sackville-West. Virginia didn't think much of Vita's conversation, but she did think very highly of her legs. In her diary she wrote: "But could I ever know her?" It was to be the start of nearly 20 years of correspondence, flirtation, literary inspiration, and deep friendship. Virginia would write her most playful novel, Orlando, for and about Vita, and their close bond would end only with Virginia's tragic death in 1941.
Here is the true love story of Virginia Woolf and Vita Sackville-West, told through selected letters and diary entries, allowing us to hear these women's complex and constantly changing feelings for each other in their own words. Passionate, witty, and lyrical, their writing gives us a vivid sense of their extraordinary lives: from Vita's travels across the globe with her foreign diplomat husband, to Virginia's gossip about parties with the Bloomsbury set; from their shared love of dogs and gardens, to their grief and fear as war breaks out across Europe.
These letters bring to life a relationship that—even a hundred years later—feels radical, relatable, and vital.
About the Author
---
Vita Sackville-West was born in 1892 at Knole in Kent, the only child of aristocratic parents. In 1913 she married diplomat Harold Nicolson, with whom she had two sons and traveled extensively before settling at Kent's Sissinghurst Castle in 1930, where she devoted much of her time to creating its now world-famous garden. Throughout her life Sackville-West had a number of other relationships with both men and women, and her unconventional marriage would later become the subject of a biography written by her son Nigel Nicolson. Though she produced a substantial body of work, amongst which are writings on travel and gardening, Sackville-West is best known for her novels The Edwardians (1930) and All Passion Spent (1931), and for the pastoral poem The Land (1926), which was awarded the prestigious Hawthornden Prize. Sackville-West died on June 2, 1962 at her Sissinghurst home, aged seventy.
Virginia Woolf was born in London in 1882. After her father's death in 1904 Virginia and her sister, the painter Vanessa Bell, moved to Bloomsbury and became the center of The Bloomsbury Group. This informal collective of artists and writers exerted a powerful influence over early 20th-century British culture. In 1912 Virginia married Leonard Woolf, a writer and social reformer. Three years later, her first novel The Voyage Out was published, followed by Night and Day (1919) and Jacob's Room (1922). Between 1925 and 1931 Virginia Woolf produced what are now regarded as her finest masterpieces, from Mrs Dalloway (1925) to The Waves (1931). She also maintained an astonishing output of literary criticism, short fiction, journalism, and biography. On March , 1941, a few months before the publication of her final novel, Between the Acts, Virginia Woolf committed suicide.