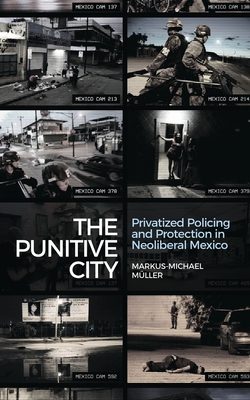 $47.18
Out of Stock Indefinitely
Description
---
Mexico—a country whose name has become synonymous with drugs, crime, violence, and insecurity. While global media fascination and academic interest has been fixated on the drug war, however, an equally dangerous threat has emerged—the privatization of the police and security force.
 
In The Punitive City, Markus-Michael Müller explores how local political dynamics have played a huge part in Mexico's chronic instability. Encompassing a wider context of urbanized neoliberalism and democratization of local politics, Müller closely examines the new reality of extreme security privatization sweeping the country and the contradictory responses on this phenomenon from politicians, activists, and residents. Alarmingly, his research discovers that there is a political protection racket emerging in the region due to the rise of privatized security and gated communities, leading to increased exclusion and violence towards those on the socio-economic margins. Side-stepping the drug war discourse that typically dominates Mexico, The Punitive City deftly tackles the problems of inequality and uneven development spreading across Latin America.
About the Author
---
Markus-Michael Müller is an activist and professor of Latin American politics at the Freie Universität Berlin.
Praise For…
---
"Müller offers a wealth of original and stimulating insights, including a critical exploration of the role of the transnational NGO-Foundation-Academic nexus in vernacularizing common principles of punitive urban security governance throughout the region and beyond."
— John Gledhill, author of The New War on the Poor: The Production of Insecurity in Latin America

"Müller's work on urban security is deeply compelling. He makes the institutional, political and community consequences of Mexico City's punitive turn legible through exacting empirical insight. This is not just analytically productive, but also absolutely necessary for a thoughtful analysis of violence and urban life in Latin America."
— Graham Denyer Willis, author of The Killing Consensus: Police, Organized Crime and the Regulation of

"Provides wonderful insights into the complex practices of security in contemporary Mexico City. Building on strong foundations in theory and on-the-ground data this book blazes a new trail in understanding the multiple layers of security debates in Latin America's largest city and the region more generally."
— Desmond Arias, author of Drugs and Democracy in Rio de Janeiro

"Müller's conceptually sophisticated and empirically grounded critical gaze spares nobody and nothing and makes abundantly clear how informal mediations continue to condition Latin America's violent democracies. A must read."
— Wil G. Pansters, Utrecht University/University of Groningen

"[A]n outstanding contribution to critical urban security studies."
— European Review of Latin American and Caribbean Studies

"The Punitive City is a valuable analysis of an ongoing 'punitive turn' in the neoliberal governance of Mexico City . . . offers a grounded argument for 'desecuritizing' scholarly analysis and practical engagement with the instabilities wrought by neoliberal governance of urban society."
— Journal of Latin American Geography

"Makes an important contribution for explaining the role of policing, securitization and its privatization in creating the Global City within the context of Latin America. It also provides us with insights on the contradictions of democratization, clientelism, neoliberal urbanism, and social democracy."
— Journal of Labor and Society