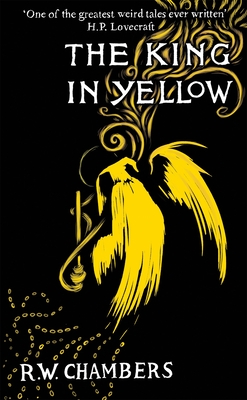 Description
---
A beautiful gift edition of the supernatural horror cult classic that inspired H.P. Lovecraft and the HBO hit series True Detective

The weird tales in this slim volume are all linked by a play, the second act of which reveals truths so terrible and beautiful that it drives all who read it to despair: The King in Yellow.

These four macabre, uncanny and unsettling stories are some of the most thrilling ever written in the field of weird fiction, and since their first publication in 1895 have become a cult classic, influencing many writers from the renowned master of cosmic horror H.P Lovecraft to the creators of HBO's True Detective.
About the Author
---
Robert W. Chambers (1865-1933) was an American author and artist. He was a prolific writer and enjoyed great success during his lifetime, with an output comprising works of romance, adventure and science fiction, as well as some books for children. However, it is principally for his weird and supernatural stories, and in particular this collection, which is regarded as one of the most important works of American supernatural fiction, that he is remembered today.
Praise For…
---
"A beautiful gift edition of this cult classic of supernatural fiction. . . These four macabre, uncanny and unsettling stories are some of the most thrilling ever written in the field of weird fiction. . . The King in Yellow is a "must-read" for connoisseurs of the genre, highly recommended." — Midwest Book Review

"Lovecraft fans and connoisseurs of the weird will enjoy discovering this pioneering author." — Booklist

"A fantastic classic horror novel... written by a master hand." — Looking Glass Reads

"Altogether one of the greatest weird tales ever written." — H.P. Lovecraft