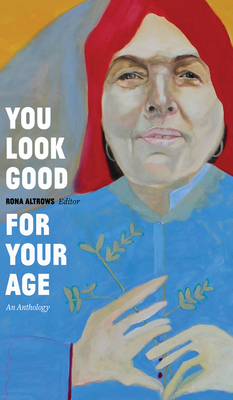 $29.69

NOT IN STOCK - Usually arrives in 7 - 14 business days
Description
---
I returned to the same respiratory therapist for my annual checkup. I told her that her words to me, 'You look good for your age, ' had inspired a book. 'Wow ' she said. 'You wrote a whole book about that?' 'Twenty-nine kick-ass writers wrote it, ' I said. She gave me a thumbs up. From the Preface
This is a book about women and ageism. There are twenty-nine contributing writers, ranging in age from their forties to their nineties. Through essays, short stories, and poetry, they share their distinct opinions, impressions, and speculations on aging and ageism and their own growth as people. In these thoughtful, fierce, and funny works, the writers show their belief in women and the aging process.
Contributors: Rona Altrows, Debbie Bateman, Moni Brar, Maureen Bush, Sharon Butala, Jane Cawthorne, Joan Crate, Dora Dueck, Cecelia Frey, Ariel Gordon, Elizabeth Greene, Vivian Hansen, Joyce Harries, Elizabeth Haynes, Paula E. Kirman, Joy Kogawa, Laurie MacFayden, JoAnn McCaig, Wendy McGrath, E.D. Morin, Lisa Murphy Lamb, Lorri Neilsen Glenn, Olyn Ozbick, Roberta Rees, Julie Sedivy, Madelaine Shaw-Wong, Anne Sorbie, Aritha van Herk, Laura Wershler.
About the Author
---
Rona Altrows is an editor, fiction writer, essayist, and playwright. With Naomi K. Lewis, she co-edited Shy (UAlberta Press), and with Julie Sedivy she co-edited Waiting (UAlberta Press), both theme-based anthologies. Her most recent work of fiction is At This Juncture and her website is www.ronaaltrows.com.