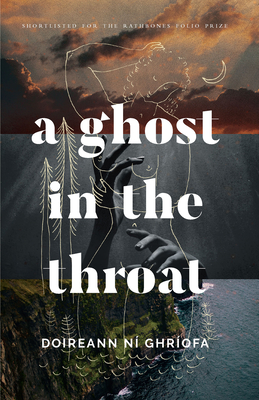 Staff Reviews
---
It's impossible to exaggerate my excitement for Doireann Ní Ghríofa's unclassifiable, bewitching book, A Ghost in the Throat. It begins with a simple declaration: "This is a female text," and builds into a fascinating exploration of the historical and cultural erasure of women's agency and perspectives. Ghost is narrated by a contemporary, overworked wife and mother haunted by an eighteenth-century Irish poem, Eibhlín Dubh's lament for her murdered husband. The narrator is seized with the unsatiable need to resurrect Dubh, to capture her essence as a means of restoring Dubh for posterity. But more than Dubh's, this is the narrator's story—a captivating account of a woman who finds purpose in nurturing her children, but who also longs to reconstruct meaning for Dubh's life through her own research and art. Enthralling and beautifully written, Ghost is a stunning achievement.
— From
Lori's All-Time Favorites
June 2021 Indie Next List
---
"This is a literary mystery explored with white-hot intensity. The author's journey, both physical and emotional, to discover more about the central poem and its author is obsessive and candid. It's not just genre-blending, it's genre-obliterating. A Ghost in the Throat cannot be contained."
— Lesley Rains, City of Asylum Bookstore, Pittsburgh, PA
Description
---
An Post Irish Book Awards Nonfiction Book of the Year - A Guardian Best Book of 2020 - Shortlisted for the 2021 Rathbones Folio Prize - Longlisted for the 2021 Republic of Consciousness Prize
When we first met, I was a child, and she had been dead for centuries. I am eleven, a dark-haired child given to staring out window ... Her voice makes it 1773, a fine day in May, and puts English soldiers crouching in ambush; I add ditch-water to drench their knees. Their muskets point towards a young man who is falling from his saddle in slow, slow motion. A woman hurries in and kneels over him, her voice rising in an antique formula of breath and syllable the teacher calls a caoineadh, a keen to lament the dead.
In the eighteenth century, on discovering her husband has been murdered, an Irish noblewoman drinks handfuls of his blood and composes an extraordinary lament that reaches across centuries to the young Doireann Ní Ghríofa, whose fascination with it is later rekindled when she narrowly avoids fatal tragedy in her own life and becomes obsessed with learning everything she can about the poem Peter Levi has famously called "the greatest poem written in either Ireland or Britain" during its era. A kaleidoscopic blend of memoir, autofiction, and literary studies, A Ghost in the Throat moves fluidly between past and present, quest and elegy, poetry and the people who make it.
About the Author
---
DOIREANN NÍ GHRÍOFA is a bilingual writer whose books explore birth, death, desire, and domesticity. Doireann's awards include a Lannan Literary Fellowship (USA, 2018), a Seamus Heaney Fellowship (Queen's University, 2018), the Ostana Prize (Italy, 2018), and the Rooney Prize for Irish Literature (2016), among others. She is a member of Aosdána and this is her prose debut.