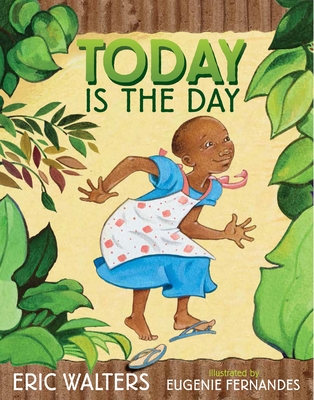 $18.69
Out of Stock Indefinitely
Description
---
Mutanu is excited. As she goes about her chores, she thinks about the day to come and what surprises it might bring. For today is no ordinary day at the orphanage she lives in. Every year, the orphanage honors its newest arrivals by creating a birthday day especially for them. From that moment forward, the orphans have a day that they know is theirs--a day to celebrate, a day to enjoy, a day to remember. And today is the day! 

     Based on real children in an orphanage in Kenya, this lovely story shows how something as simple as a birthday, something most of us take for granted, can mean so much in another part of the world.
About the Author
---
A former social worker and elementary school teacher, Eric Walters wrote his first novel, Stand Your Ground, in 1993. Since then he has written more than ninety books for children and young adults that together have won over a hundred awards. In conjunction with his writing, Eric talks to tens of thousands of students in schools and libraries across the country each year. He also founded and runs the Creation of Hope (creationofhope.com), an organization dedicated to providing care for orphans in the rural Mbooni district in Kenya. Eric has three grown children. He lives with his wife in Mississauga, Ontario.

Award-winning illustrator Eugenie Fernandes has written and illustrated more than 20 of her own books, and has created the art for more 60 other picture books. Her father was a well-known comic-book illustrator, and as a child, Eugenie spent many hours drawing at a desk right next to his. The whole Fernandes family has a flair for the creative: Eugenie's husband and their two children are also artists. Eugenie lives with her husband beside a lake near Peterborough, Ontario.
Praise For…
---
"A different sort of birthday celebration is at the bighearted center of this picture book .... Both deeply important and purely joyful." - Kirkus Reviews


"Together, Walters and Fernandes have become quite the dynamic duo in developing an effective series showcasing the inspiring, courageous stories of resilient, caring children who live in The Creation of Hope's Rolling Hills residence in the rural community of Kikima in Kenya's Mbooni District ...." - Smithsonian Asian Pacific American Center


"Good reading skills will be required of young picture book readers in order to appreciate the paragraphs of detail about the birthday celebration. The drawings are fun and lovely enhancements of the overall events presented in a winning fictional account of a real situation." - Midwest Book Review