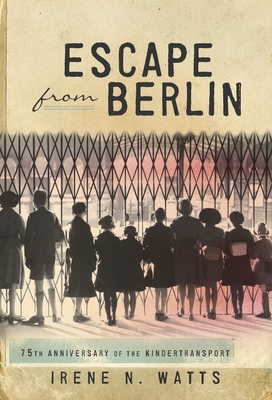 $19.75
Out of Stock Indefinitely
Description
---
  Good-bye Marianne - As autumn turns toward winter in 1938 Berlin, life for Marianne Kohn, a young Jewish girl, begins to crumble. First there was the burning of the neighborhood shops. Then her father, a bookseller, must leave the family and go into hiding. No longer allowed to go to school or even sit in a café, Marianne's only comfort is her beloved mother.

     Remember Me - Young Marianne is one of the lucky ones. She has escaped on the first Kindertransport organized to take Jewish children out of Germany to safety in Britain. At first Marianne is desperate. Marianne speaks little English and is made to feel unwelcomed in her sponsor's home and, most of all, she misses her mother terribly. As the months pass, she realizes that she cannot control the circumstances around her. She must rely on herself if she is to survive.

     Finding Sophie - Sophie Mandel was only seven years old when she arrived in London on the first Kindertransport from Germany. She has grown up with a friend of her parents, a woman she calls Aunt Em, and despite the war and its deprivations, she has made a good life for herself in England with her foster mother. She has even stopped thinking about the parents she left behind. Now the war is over, and fourteen-year-old Sophie is faced with a terrible dilemma. Where does she belong?
About the Author
---
Irene N. Watts was born in Berlin, Germany. She arrived in England by Kindertransport on December 10, 1938. She was seven years old and traveled alone. As a playwright and writer who has worked throughout Canada and Europe, she has published many award-winning books for children, including Good-bye Marianne, Finding Sophie, Remember Me, Flower, When the Bough Breaks, Clay Man: The Golem of Prague, No Moon, and Touched by Fire. Her books have been translated into several languages, including Italian, French, and Dutch. Irene N. Watts lives in Vancouver. The author lives in Vancouver, BC.
Praise For…
---
Praise for Good-bye Marianne

"In this very moving and beautifully written story readers will discover what it was like to be a Jewish child in Nazi Germany. They will come to appreciate how terrifying it was to live in such a place at such a dark time, and to understand how miserable it was for families to be broken apart the way they were." - Looking Glass Review

Praise for Remember Me

"In this poignant and sometimes heartbreaking story, the author paints a wonderful portrait in words of a young girl whose whole life has been turned upside down. Readers will see what it must have been life to be taken away from one's family and to be forced to live with people who did not and could not understand what it was like to be a German Jewish child." - from an online review at www.lookingglassreview.com

Praise for Finding Sophie:

"Most young people know very little about the Kindertransport, and this lovely story will open their eyes while introducing them to a memorable young woman who will remain in their thoughts." - School Library Journal

"This haunting story is ... an intensely emotional and poignant look at the devastation of war from a young person's perspective." - VOYA