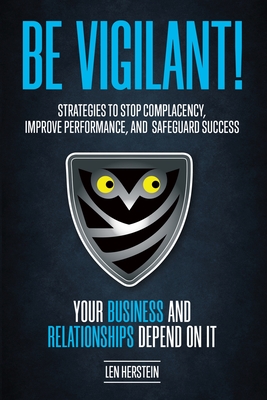 $19.99

NOT IN STOCK - Usually arrives in 7 - 14 business days
Description
---
Success can be deadly in business, leadership, and relationships.
When you've been consistently winning and achieving, overconfidence and faulty logic can blind you to potential dangers up ahead. Complacency costs money, causes slip ups, and creates critical mistakes that will put your company, your brand, and your people at risk.
Protect your hard-earned success by combatting complacency Blending his 30 years of brand marketing for organizations such as Coca-Cola, Campbell Soup, and Nabisco with his experience as a sheriff's deputy, Len Herstein shares law enforcement-inspired business strategies to help you see beyond the target and stay vigilant against threats like competition, predictability, bad habits, micromanagement, abuse of power, and industry change. Battle-tested in the most dangerous breeding ground of complacency, this is your guide to critical thinking and conscious decisions for better business performance-powered by real-life safeguards of success.
You'll discover:
Steps to avoid future crises through threat awareness / management, scenario planning, and strategic communication.
Assessment guidelines to focus efforts on learning both from what went wrong and, more importantly, what went right, after every project, regardless of the outcome.
The strategy of employing simple, sensory-based reminders to encourage positive behaviors at the workplace and at home.
How better management accountability, transparency, and workforce autonomy can protect against harmful organizational complacency through a more engaged team.
How to utilize the right metrics in the right way to accurately gauge performance and curb overconfidence.
The greater the success, the greater the risk of a complacent mindset. Anybody with something to protect should read Be Vigilant now to get the new tools you need to fight complacency at work and at home.